Bank of America customers in San Francisco hoping to make a quick withdrawal got a surprise last weekend when local activists placed stickers criticizing the bank's investments on ATM screens across the city.
The Rainforest Action Network reports that some of its members helped turn the ATMs into what they called "truth machines" using stickers that were "designed to look exactly like BoA's ATM interface."
Writing on their blog, the group explained the false ATM menus:
[T]hese new menus offered a list of everything BoA customers' money is being used for, including investment in coal-fired power plants, foreclosure on Americans' homes, bankrolling of climate change, and paying for fat executive bonuses.
This isn't the first time in recent months that activists have challenged the supremacy of massive U.S. banks. In November, Bank Transfer Day offered a chance for customers of too-big-to-fail financial institutions to close their accounts and transfer their funds to local banks or credit unions.
Meanwhile, BofA has been creating enough bad press for itself, with a near-foreclosure caused by a typo, a bride who was unable to deposit wedding checks because she didn't take her husband's name and a man who was asked to pay interest on a $0 credit card balance all in the last three months.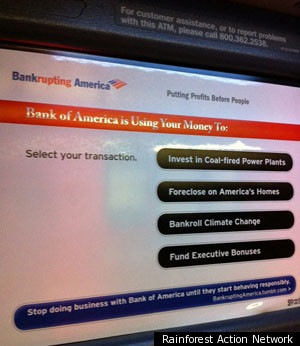 h/t Maria Popova

BEFORE YOU GO