Food Informants is a week-in-the-life series profiling fascinating people in the food world. We hope it will give you a first-hand look at the many different corners of the food industry. Know someone who would make a great Food Informant? Tell us why.
One of the biggest college football games of the year was the BCS National Championship. Louisiana State University (ranked number 1) was pitted against rival University of Alabama (number 2), a match-up that also occurred earlier in the season, resulting in LSU's win. But for the championship round, things ended up a little differently. The competition wasn't just between Alabama and LSU though -- chefs had their reputations at stake as well. The Boudin vs. BBQ tailgate pitted Drew Robinson of Jim 'N Nick's Bar-BQ in Alabama against Chris Barbato's Café Adelaide in New Orleans.
The diary below chronicles Chef Drew Robinson from Jim 'N Nick's, he details how one preps for such a big barbecue feast on someone else's turf. At the same time as Drew was preparing his porky goodness, Tory McPhail, executive chef of Commander's Palace, one of New Orlean's most institutional fine dining restaurants, was preparing for an influx of guests in town for the game.
Read on to hear about how both chefs churned out an impressive number of meals, and to see if Alabama got bragging rights for more than just its football team. Note: Drew's diary appears first, followed by Tory's.
DREW ROBINSON
Wednesday, January 4
6:30am: I'm awake, but sick. Breakfast for the next few days is going to be a protein shake spiked with wheatgrass and vitamins.
9:00am: We have key operations people on a conference call to discuss Boudin vs. Barbecue execution. Smoking a pig is an endeavor, but doing it right long distance for our friends in Cajun country has us considering the variables more seriously.
10:00am: Hooking up with Alex from the inspiring Ideas In Food at Jim 'N Nick's. It's an awesome brainstorming session about the possibilities of creativity and minimizing food waste in the restaurant is our foundation for ideas.
12:00pm: We are embarking on a broth experiment. Every piece of pork skin, bone and fat just got covered in water and went into the smoker for a ten hour nap. Excited to see the outcome.
1:00pm: More experiments in broth making; all the pulled chicken carcasses are being covered with water and placed in the steamer. This is a reminder that not doing what you have been trained to do can often lead to new direction and discovery.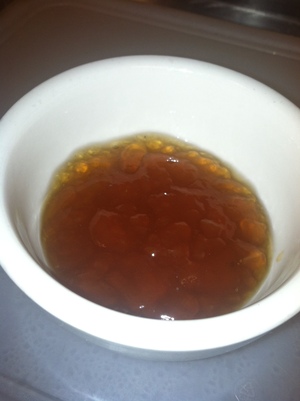 4:00pm: Why do conference calls happen at the worst times? It's time to coordinate what to do with all of the Berkshires we're going to take to NOLA for the Boudin vs. Bar-B-Q event. And yes, we want the heads.
7:00pm: After a great day I have to leave Alex. He's pondering how far he can go with the flavors of grilled parsley. Me, I have a stove to install.
Thursday, January 5
7:30am: Out the door and straight into calls about the NOLA trip. We have people all over trying to make sure this party is the most kicking thing that happens all year.
9:00am: NOLA prep gives way to prepping for new restaurants. Reviewing timelines and training documents reminds me just how much I'd rather be planning our escapades in the Big Easy.
11:00am: The butcher just rolled up with one of our Berkshires -- meat and fat look awesome! I can't wait to get this thing smoking tonight.
2:00pm: I just got back to the restaurant Alex and I worked in yesterday to check the smoked broth that we made yesterday. The clarity is like consommé and the flavor may be some of the most intense broth I've ever had; I want to cook collard greens in this stuff.
3:00pm: Stepping into a meeting with food scientists to try and figure out how to take the sauces we make every day and bottle them. The goal is to find a recipe that is shelf stable but all natural with minimal adjustments. For weeks we've been discussing the staggeringly fascinating bridge between science and cooking.
7:00pm: I'm back with the Berkshire and it looks great. After a heavy dry rubbing it is in for its long hickory sauna. Sweet dreams.
Friday, January 6
8:30am: I've been trying to shake a cold all week, so now I'm sitting in the doctor's office. Can't let this thing drag me down during the weekend in NOLA and at National Championship.
11:00am: We just put two different bacon recipes of the cure at Jim 'N Nick's in the smoker. Homemade bacon in the hip pocket will make a tasty little surprise at our tailgate in the Big Easy.
1:00pm: The Berkshire just came out of the smoker and it's freaking beautiful. I'm digging into the smoky, succulent belly meat for my first bite. After a taste test, the cured bellies are going in the smoker for the last magical step to become bacon. Most exciting moment of the day so far.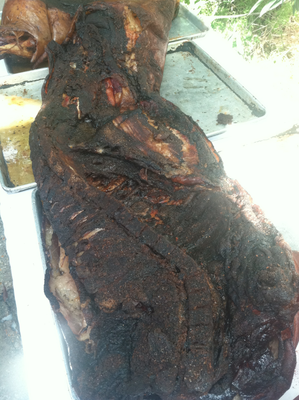 2:00pm: Sitting on final phone calls to ensure everything is lined up for success when we hit the road to the BCS game in NOLA tomorrow. Taking care of the minutia is not my favorite, but when we hit the road tomorrow all will be well.
4:00pm: The bacon is ready! The color and aroma of this stuff is incredible. I can't wait to get it cold to start slicing and frying. Bummer that it's not tomato season; no hope for a proper BLT.
6:00pm: Headed out from Jim 'N Nick's to get packed and rest for our departure to the Big Easy tomorrow. The party is almost here...
Saturday, January 7
5:00am: Starting early. We have to get the rig hooked up and the truck loaded so we can hit the road.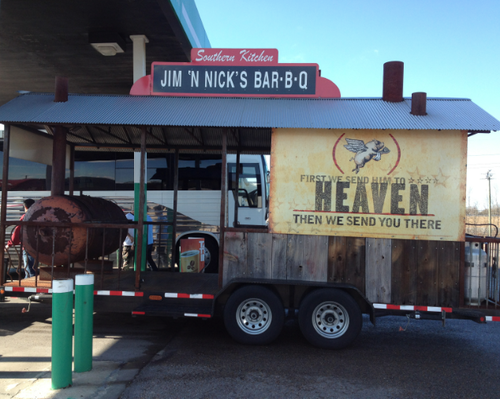 8:00am: The Jim 'N Nick's crew has loaded onto the bus with the rig and our food travelling close behind. We're a hard core Crimson Tide crew and part of our tradition when travelling to games is to start with crimson-colored Bloody Marys. Good thing I went heavy on the vitamins.
2:00pm: We have arrived. We're unloading supplies for the tailgate at Cafe Adelaide and moving onto Commander's Palace.
5:00pm: The rig is in position at Cafe Adelaide and all is set for the Boudin vs. Bar-B-Q cook-off tomorrow. Pigs are loaded and everything looks good; doors are locked and we head back downtown to see what becomes of our first New Orleans night.
9:00pm: The crew is treated to possibly the best food in the city at Herbsaint. The pork belly with beans, bacon, and pickled cabbage is giving me ideas. Afterwards, we head out looking for a chilled High Life and thinking little of when sleep will come to fuel us for our day tomorrow.
Sunday, January 8
8:30am: We're loading the smoker with ribs and chicken at Commander's. The pig from last night is looking great so far and we're going to bring all of the heat to compete with these guys -- they rock their food culture pretty hard and we want to make sure we represent well.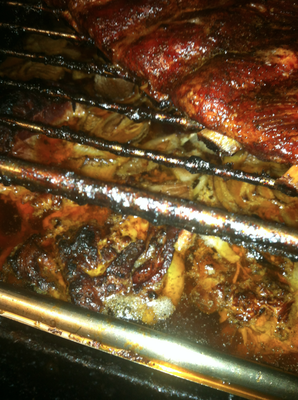 10:00am: Sunday morning Bloody Marys at Commander's on the sidewalk with some of our homemade bacon while we wait to serve our pork.
12:00pm: The pigs have been resting a while and we're going to put them back on the grill for our Sports Illustrated shoot so that these guys can see how real whole hog barbecue is done when it's Alabama style.
2:00pm: Andy Staples from SI is on the rig and we're talking pork, of course; he totally walked into the secret weapon. We're feeding him smoked cracklings and barbecued pork belly. It's not fair really. When you're munching on pig belly you lose all hope of control.
4:00pm: We totally won the Boudin vs. Barbecue show down. No doubt about it that it was an honor; Tory and the Commander's Palace crew do things the right way. It could have gone to either of us.
7:00pm: We relocated the rig downtown to Cafe Adelaide and are set up for our tailgate tomorrow with Chris and his crew. Whole hog and boudin will be the stars again as LeNell and Lu mix their libations to get everyone feeling easy. The pigs are on now we have some time to take in the Big Easy.
Monday, January 9
9:00am: BOOM! It's game day. We are ready to make cole slaw for the Barbecue vs. Boudin party down at Cafe Adelaide. Set-up is in full swing: pigs are in final stages of preparation, tables are being set, the bars are going up for LeNell and Lu, and the party permeates the air.
11:00am: It's game time for us. The tailgate is our last stand before we head to the game later, but we're looking sharp and the food is solid. There's no doubt about it that Chris' boudin and jambalaya from Cafe Adelaide is delicious, but we're representing Alabama pretty well, too.
2:00pm: Our line is pretty long with fans from both camps. I ask a girl dressed in LSU attire who she thinks is going to win and she looks at me like I've lost my mind. I apologize and say that I can tell by her shirt and she politely let me know that she was glad nothing was wrong with me.
4:00pm: We have served most of the pigs and only have a short time left; we should just about sell all of our food. It's a testament to the pig. While we run things down, a parade is kicking in across the street for the home team to get geared up for their LSU Tigers. Its fun, but we'll see what happens...
5:00pm: We break down. Service is done and so am I. Our crew knocks everything out rapidly so that we can get to the game. Along the way we knock out a few shots of the brown water so that we can be in the "proper frame of mind" to cheer our team to victory.
7:30pm: It is awesome to be in the stadium to watch the national championship.
12:00am: We're back in downtown NOLA after The Crimson Tide has won the largest ballgame in college football and we are taking it all in. Right now, there are no Honey Badgers, there is just Roll Tide Roll!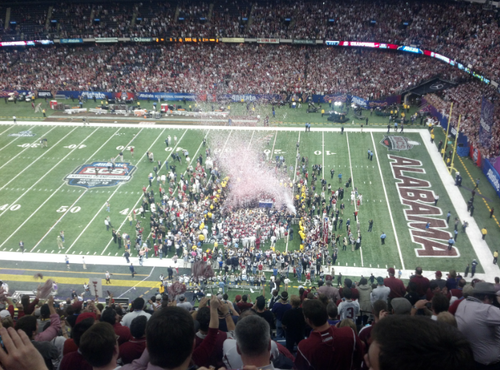 TORY MCPHAIL
Wednesday, January 4
9:00am: At Commander's Palace, the specialty produce truck pulls up with a delivery of blood oranges, red currents, chervil, brussels sprouts and swiss chard for this weekend's menus.
1:03pm: I spend some time rewriting brunch, lunch, and dinner menus in preparation for the BCS National Championship weekend. Then, I head to the kitchen to test some Mississippi grass-fed beef for a new brunch entrée. Yum.
3:45pm: More time at the computer, but this time I'm inputting descriptions for new dishes on the menu formats. I'd rather be in the kitchen.
5:40pm: Getting the prep together to build a 30 ft. fried shrimp po-boy tomorrow downtown with Chefs Greg Reggio, Duke Locicero, Michael Sichel and a few other friends.
7:06pm: Stopped by the grocery store on my way home to buy as much cool coffee as the human body can handle over the next 5 days. Must remember this is a marathon, not a sprint.
Thursday, January 5
9:15 am: I spend the morning building two, 30-foot Peace Maker Po' Boys -- half shrimp and half oyster -- at the official BCS Press Conference. Amazing what you can pull off when a group of talented chefs gets together.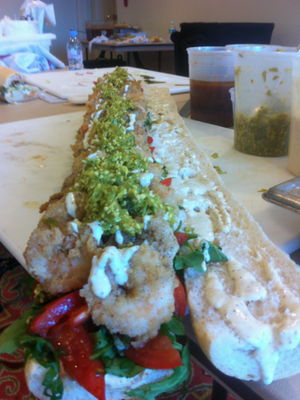 11:40am: I head back to Commander's kitchen to work through the busy lunch. Damn, I love this job.
4:30pm: Time to write my evening prep lists and continue detailing all our freshly delivered heirloom baby carrots -- these little guys are friggin' beautiful.
8:00pm: Started gathering the pig stretchers and banana leaf platters in preparation for our Cochon de Lait and barbecued oysters. It's a good weekend to eat in NOLA.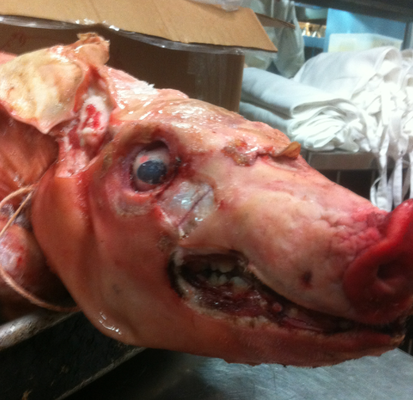 Friday, January 6
9:00am: I have a few morning meetings then a round of morning tasting at all the kitchen's stations.
3:30pm: I make a quick run to Caire Restaurant Supply to pick up more hardware for the busy weekend ahead. Football fans are a hungry crowd, so I don't want to get caught "in the weeds."
4:30pm: Arrive back at Commander's to start cooking for my guests at the Chef's Table tonight.
Saturday, January 7
1:35pm: Just sat down at my computer after pulling all of my morning cooks outside for a chat about the piss poor brunch performance and we discussed in detail our shortcomings as a group. The expectations for Sunday are crystal clear. Now, I'm spending some time tweaking tonight's dinner menu for a fully booked house.
3:40pm: Worked through a busy afternoon prepping for private parties and making 50 gallons of turtle soup -- damn this stuff is good, and popular!
7:15pm: We got crushed tonight in the kitchen with crazy amounts of tickets. They came in so quickly that they were hanging down to the floor on 3 occasions. You can tell it's party time in NOLA.
9:00pm: I'm soaking wet, tired, exhausted, and mentally drained after this slammed, packed, busy day. Ups and downs in the life of a chef.
Sunday, January 8
6:00am: Alarm is going off over and over again - 6 o'clock came too early today.
8:15am: Start with prepping for one of the busiest days of the year. We are over-booked so are hoping we get a few cancellations so we don't keep our guests waiting at the bar too long.
1:45pm: We have 2 big parties tonight and a bachelorette party at the chef's table in the kitchen. One dining room is all Alabama fans and another is all LSU fans. A 6 course tasting menu for 60 people will be a challenge to pull off, but I'm confident in my crew.
7:30pm: The tension between the LSU and 'Bama fans is beginning to escalate as everyone drinks more wine and cocktails. The bachelorette party is a blast to cook for -- lots of beautiful ladies having a great time in the kitchen is always a nice change.
8:00pm: I jumped into my LSU tiger mascot suit and bounced around the dining rooms to chant, clap, and celebrate with the football fans.
10:45pm: The bachelorette party done, the tiger suit off, jeans are back on, and I'm heading home for the evening - wow, what a day.
Monday, January 9
8:45am: Trying to get the kitchen clean, organized, and ready for a busy, busy lunch. Today, I need to get all my stuff done by 2:00 so I can help out my buddy Chris Barbato at Café Adelaide. We are throwing a huge tailgate party downtown at the Loews New Orleans.
6:30pm: Tailgate was great, so now I'm watching the game at the Rendezvous -- what a miserable experience.
10:15pm: I head to the Avenue Pub to get some late night food. Beer and comfort food are necessary after that game.
See more Food Informants below:
PHOTO GALLERY
Food Informants(CLONED)(CLONED)