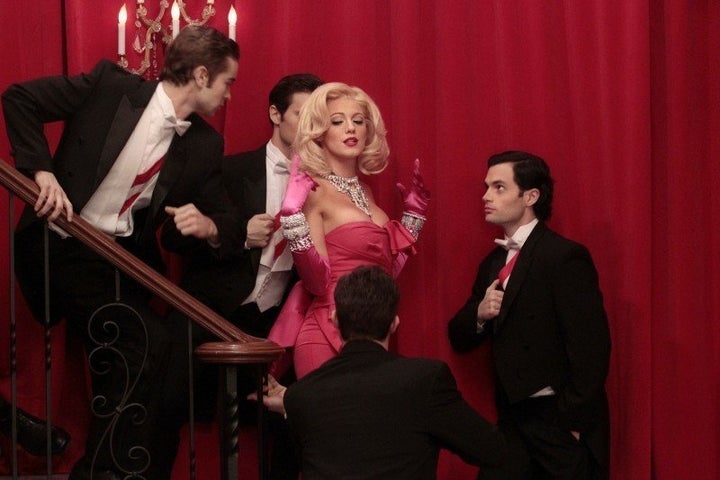 Spotted: Serena van der Woodsen pulling off her Marilyn Monroe impression in front of some of Manhattan's most elite bachelors. Don't worry, "Gossip Girl" fans, it's only a musical dream sequence.
Judging from the episode stills, it looks like Lively is most definitely dressed up as someone other than Serena -- she's pulling a Marilyn! Apparently, it's a musical number that the "Gossip Girl" producers have been pushing since Season 1.
"We just filmed the scene the other day," said executive producer Josh Safran, back in November. "It's crazy. I wrote it, and it's something I've wanted to do since Season 1. I'm very proud of that moment, and when you see it, you'll know why. It's something we've never done before. From Season 1, I said, 'I want to do this.' But it just wasn't the right time. I've been pushing it for five years, and it finally happened. I can't tell you what it is, but it's the best thing we've ever done. Everyone was so excited, and showed up to play in such a major way. They made it even more than my dreams."
"Gossip Girl" airs Mondays at 8 p.m. EST on The CW. Take a look at the stills from "Gossip Girl's" 100th episode, titled "G.G.," below.
PHOTO GALLERY
"Gossip Girl" 100th Episode Stills
BEFORE YOU GO