"Shop Talk" is a recurring feature in which we visit some of our favorite stores and highlight their stylish employees. Today, meet Nancy Zhang, VP and COO of Otte, a trio of New York boutiques that stock on-trend offerings from the likes of Alexander Wang, 3.1 Phillip Lim, Thakoon and Rag & Bone. Zhang took us on a tour of Otte's Tribeca outpost for an exclusive look at some of its most covetable items.
Scroll down to get some shopping tips from Nancy.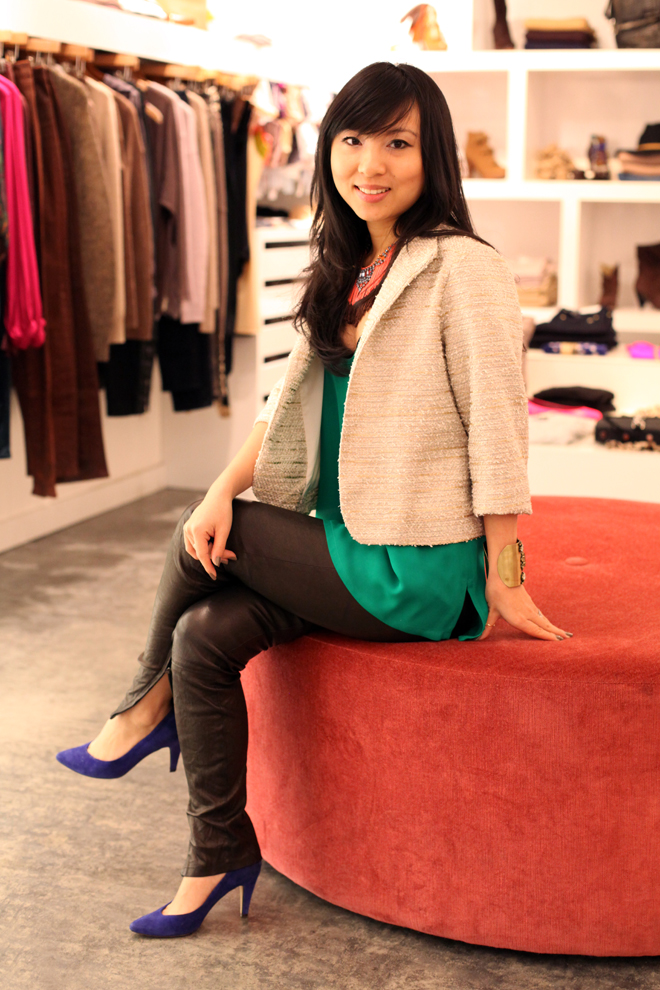 Photo: Bobby Doherty
What's the craziest thing that's happened in the store?
Last year, we had an editorial piece called "The Best Gifts to Give Your Mother for Valentine's Day." On Valentine's Day, a Harley Davidson pulled up in front of our store. I'm talking about your stereotypical Harley Davidson man ... he's big, has tattoos, is wearing a leather jacket and has a beard that goes down to his belly. Our store manager was a little bit nervous, like "this is not our typical shopper. What does he want?" He comes in and says he's looking for this particular Alexis Bittar bracelet. We're like, this guy even knows who Alexis Bittar is? He says, "I heard that this particular bracelet is the best thing to get my mom for Valentine's Day, and that's why I'm buying it." You never know who's looking at your site.
Any other funny requests from customers?
If our customers like something, they really like it. We had one customer at Madison Avenue who really liked a particular Alexander Wang coat. First, she bought it in every color it was in. Every season, she comes back and asks if we can get it again for her. And we tell her it's season by season, and he stopped making it. And she's like, "Well, why can't he make it for me?"
And, what about bizarre calls to your personal shopping service line?
Once, we got a call from a lady who just wanted to say hello and chat. She told us all about her life story, her kids and her style preferences. Then she told us to hold on while she took a bath. After her bath, she called us back to continue chatting about celebrity gossip. When we suggested outfits for her, her first question was "would this be something 'Princess Kate' would wear?" ... followed by "but do you think Kim Kardashian would wear it?" She told us that she "prefers classy not trashy."
What sets Otte apart from other local boutiques?
Our customer is very sophisticated; they like understated luxury. A sequins tube top is just not our customer.
So, no "Jersey Shore"-style club gear?
There are ways to go clubbing with the clothing that we sell. You could go clubbing in a Helmut Lang leather legging with a bright pink shirt and a really cool statement piece.
How would you describe your personal style?
I really like color, and I really love to layer. I start with basics, and build special pieces on top of that. And if I could wear 500 pieces of jewelry, I would.
What are you wearing today?
The J Brand leather legging, the Otte signature tank in kelly green and the Otte Dani jacket, which is made of Italian boucle with really beautiful, sparkly flecks and texture. My concept today is layering textures, so I have the silk, the boucle, the leather and vintage suede blue shoes.
What should every woman have in her closet?
Every woman needs to have a basic pant, whether it's your favorite jeans or a legging or a straight-leg or wide-leg black pant: something that makes your butt look good, makes you feel sexy, that you can wear day or night and that can transition from spring to fall easily. If you find that right fit, you should get it in every color.
What's on your wish list?
I'm going to ask my boyriend for one of two things for Valentine's Day. One is this amazing Rosa Maria diamond-encrusted gunmetal-colored ring. It's not your typical diamond jewelry; it's very edgy and cool. Another piece I love is the Sang A buffed python bag. It has an amazing texture to it. Python is going to be so big for spring.
What trend do you wish would go away?
I'm a very short person, so big, wide-leg gaucho pants do not work for me. But, they look amazing on 6-foot-tall models.