An Amber Alert for a missing 9-year-old girl was lifted this afternoon after she was able to escape her kidnapper in Colorado Springs.
Witnesses say Calysta Cordova was found at the Circle K convenience store with two black eyes, a cut lip and injuries to her jaw and face. She is now reunited with her family in a hospital checking her injuries, though police say the suspect is still at large.
UPDATE:
Police say that they have Calysta's kidnapping suspect Jose Garcia in custody after arresting him at a Colorado Springs bus stop this afternoon. They did not say whether the Calysta knew her kidnapper or if she had any ties with him.
The bus stop where Garcia was found is located approximately 8 miles away from the Circle K he fled from on foot.
7News reports that Garcia has a criminal history for trespassing, driving under the influence, and property damage.
EARLIER:
Calysta disappeared after school Thursday afternoon around 3:30 p.m. Her mother, Stephanie Cordova, reported her missing when she didn't come home and made a tearful plea for her return on KKTV.
Calysta was reportedly seen getting into a vehicle, possibly a white Mercedes, but the car broke down or was involved in a crash and a passing vehicle gave the two a ride to the Circle K. Inside Calysta was able to call 911 while the suspect was reportedly in the bathroom. She also refused to leave the Circle K with her kidnapper and began yelling, "I'm not going anywhere with you, I'm waiting for my momma."
Police believe the suspect, being identified as a 30 or 29-year-old man named Jose Garcia, fled on foot or hitched a ride to escape.
Scroll down for photo of suspect.
It is not yet known what Calysta may have endured while she was kidnapped.
"I looked the guy dead in the eye and he just spun around and took off," witness Efren Vialpando told the Colorado Springs Gazette.
Colorado Springs schools have been put on secure perimeter status while police search for Garcia.
PHOTO: Suspect Jose Garcia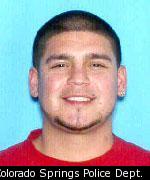 BEFORE YOU GO