It's easy to get annoyed with cold weather, especially now that the holiday season is over. So in this Craft Of The Day we're seeing the silver lining by putting these freezing temperatures to good use. How? We're using nature to make really fun and seasonal votives made of ice! They're perfect for lining your walkway before a party or spiffing up your entry. The key to keeping them last: Using electric candles rather than real ones to keep the ice from melting too quickly.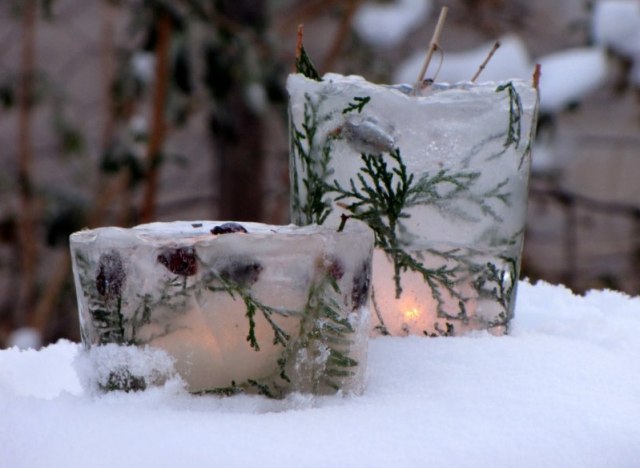 Photo by Stephanie Sims of Ordinary Life Magic
What You'll Need
2 Containers/glasses of different widths
Water
Embellishments (items like pine or berries to freeze inside the votive)
Weight (rocks or marbles for example)
How To Make It
1. Place your smaller container inside of your larger one, and drop your embellishments in the space between the two glasses.
2. Put the weights in the inner container to keep it from floating in the water.
3. Fill the outer container with water.
4. Put the entire thing outside or in the freezer. (Will take up to 24 hours to freeze solid.)
5. Run hot water on the outside to loosen the outer container and fill the inner one with hot water until it releases too.
6. Drop a tea light inside and light up your front yard or porch!
For the full tutorial and to learn how to make a votive with a base, visit Ordinary Life Magic. And, be sure to check out the other great crafts in our Craft Of The Day slideshow below.
PHOTO GALLERY
Craft Of The Day