Our favorite part of a snow fall is sitting inside with a steaming cup of coffee watching the flakes drop...going outside is never part of the plan! If you're like us, these frigid days are perfect for crafting. Instead of venturing out into the snow, make this sock snowman. It's the perfect way to use up socks that have lost their match or gained an unfavorable hole!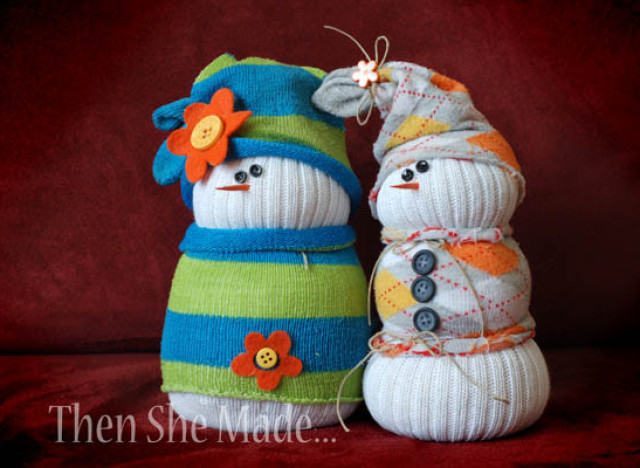 Photo by Amy Williams of Then She Made...
What You'll Need
1 White sock (mid-calf or knee-high length)
2 Decorative socks
Rice
Twine/ribbon
Rubber bands
Buttons
Toothpick
Hot glue gun
How To Make Them
1. Cut the foot portion off of your white sock. (You will be using only the tube portion.)
2. Turn tube inside out and secure the base with a tightly wrapped rubber band.
3. Fold inside out one more time so the rubber band is on the inside.
4. Fill the sock with rice. (Push the rice down as you go to stretch the sock for a plumper snowman.)
5. Secure the top shut with a rubber band.
6. Cut two decorative socks. Cut the toe and heel off of the first, but only cut the heel off of the second.
7. Pull the decorative tube over your snowman and down to the middle to form a sweater.
8. Tie twine around the snowman at the top and bottom of the decorative sock to form three sections.
9. Pull the second decorative sock over the snowman's head like a hat and tie a twine bow at the top.
10. Add your embellishments with hot glue (buttons down the middle or a toothpick nose).
Visit Then She Made... for the full tutorial and alternative looks. And, if you're still in a crafty mood, flip through our Craft Of The Day slideshow for more fantastic cold weather projects!
PHOTO GALLERY
Craft Of The Day