Last month, when I was invited by Pantene to an unveiling of their new celebrity spokeswoman who has "ethnic hair," I could barely contain my excitement. Someone who looked like me would finally front the brand. After exchanging countless guesses with other beauty editors, my girl crush Sanaa Lathan appeared looking stunning as usual.
The 40-year-old actress, whose breakout role was a tomboy turned bombshell in the romantic drama "Love & Basketball," has been named the face of Pantene Pro-V's Nature Fusion Moisture Balance Collection.
"It was instilled in me at a young age, how you treat your body is really important," said Lathan. "We had an aloe vera plant in the house, and if I'd get a cut or scrape my mother would cut off a piece and apply the aloe. I saw firsthand how these things really work. Now we're at a time where we have Whole Foods, everything is green and everyone is going organic. So, I'm glad Pantene is incorporating natural ingredients into their products."
Scroll down as Lathan dishes on her hair care regimen, bold red lipstick and the secret to her gorgeous gams.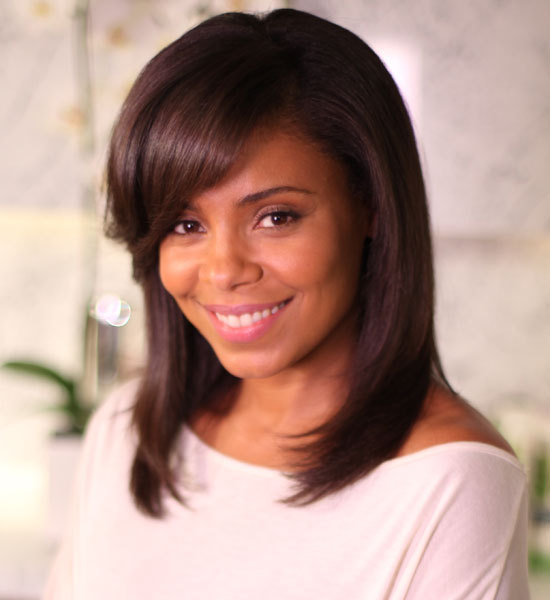 Pantene Pro-V NatureFusion spokesmodel Sanaa Lathan. Courtesy Photo
On maintaining her thick hair:
I always deep condition. It's really important to keep my hair moisturized, not put too much heat on it and keep the ends trimmed. Also, I like to rotate my hairstyles. I'll do straight and then when I'm in-between, I'll wear my natural texture.
On hair extensions:
I'll wear pieces and weaves in movies, but I'm loving my own hair especially because I've been taking good care of it and can go without [extensions]. I like wearing it in a cool chignon or really wild.
On her favorite Pantene products:
I love the NatureFusion Moisture Balance shampoo and conditioner and the Relaxed & Natural daily oil cream moisturizer.
On her sexy red pout:
It's MAC Ruby Woo. I love the matte finish and it looks different on so many skin tones. Part of the fun in being an actress is that I can have so many personas. I think every woman should be that way. Yet, when it comes to my makeup, there's been two go-tos: the dark eye with nude lips or a red lipstick.
On her flawless complexion:
For my skin, I like using organic because it goes straight into your bloodstream. It's like putting something into your mouth.
On staying in shape:
I have one of those mini trampolines that you can get from WalMart. I jump on that for about 30 minutes while watching soap operas.
Click through the slideshow below for some of Sanaa's finest beauty moments.
PHOTO GALLERY
Sanaa Lathan's Beauty Looks