After placing second in New Hampshire's primary election, Ron Paul finds himself fighting for third place in the Palmetto State on Saturday.
The congressman from Texas is running behind rival contenders Newt Gingrich and Mitt Romney in the race for the Republican presidential nomination. The latest polls show him just ahead of Rick Santorum.
Paul, who placed third in the 2012 Iowa caucus earlier this month, is already looking beyond Saturday's primary contest in South Carolina.
HuffPost's Ryan Grim and Elise Foley report on how Paul's candidacy factors into the larger race:
That long slog could drag all the way to Tampa, where Republicans hold their political convention in late summer. As long as Ron Paul continues pulling significant support, and a conservative alternative remains viable -- which, in the age of Citizens United, means having just one deep-pocked casino mogul, for instance -- it'll be difficult for any one candidate to lock up a majority of delegates.
The Polls
HuffPost's Mark Blumenthal reports:
The polling trends of the last week, both nationally and in South Carolina, indicate that the race for the Republican presidential nomination has taken another dramatic shift. At face value, these trends suggest that Newt Gingrich has moved into the lead in South Carolina and now stands a good chance of winning the state's primary on Saturday.

But now may be a good time to consider the limitations of the polls themselves. Voters in South Carolina are making up their minds in the aftermath of events that a report published on the front page of the state's largest newspaper described as analogous to "a plugged-in toaster ... dropped into what had been the relatively placid waters of the South Carolina presidential primary."

Unforeseen late events can shape voter preferences in unexpected ways. Telephone polls interrupt voters in the middle of other activities and ask them to make a decision as if "the election were held today." But many real voters are still mulling their choices, particularly in the rush of recent events, so caution is in order in interpreting the latest poll results.

Nationally, the Gallup Daily tracking poll released on Friday shows another narrowing of the margin between Mitt Romney and Newt Gingrich. What had been a 23-point Romney lead over Gingrich on Sunday has dropped to just 10 percentage points (30 to 20 percent), prompting Gallup's Frank Newport to note that "clearly things are collapsing" for Romney nationwide.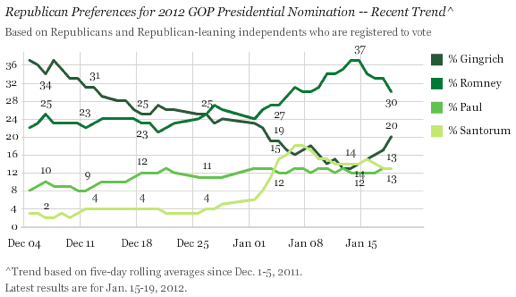 Check out the slideshow below for more on the Paul campaign.
PHOTO GALLERY
Ron Paul 2012