It's no secret that I have the best job ever. I look at beautiful clothes and accessories all day long and then get to tell you all what I think of them. So when I was invited to take a sneak peek at KARL, the new contemporary collection designed exclusively for Net-a-Porter by Mr.Lagerfeld himself, I couldn't think of a better way to start the work week.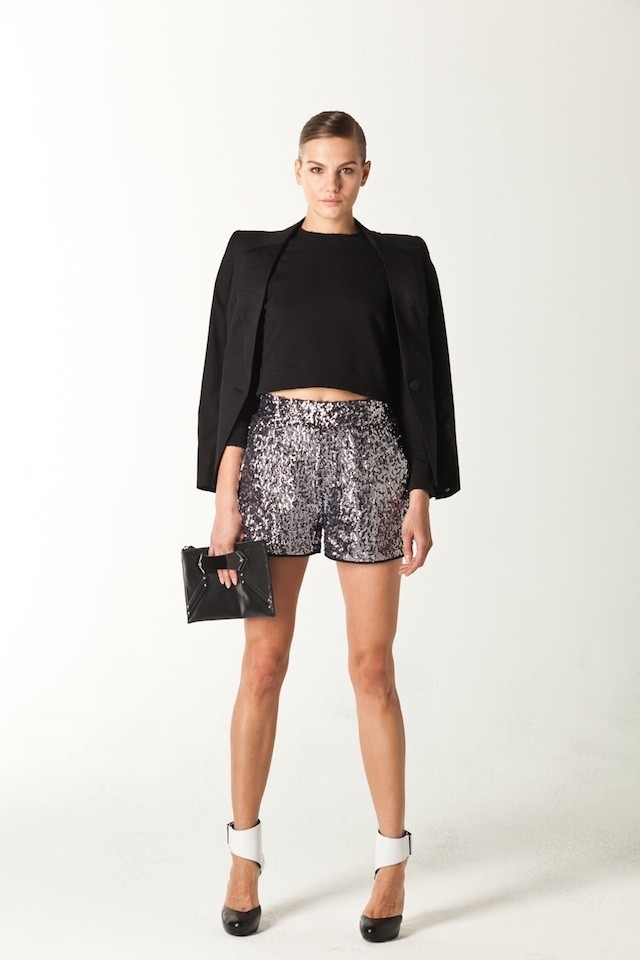 The Look I Styled Courtesy Of KARL at NET-A-PORTER.COM
Back in the early aughts, the Chanel designer launched his line Lagerfeld Gallery, which he ultimately sold to Tommy Hilfiger while relinquishing any creative control. My guess is that this line will have a very different ending. The pieces are all versatile: easy jackets, slim-fitting pants and matte sequins that could all be mixed and matched until the cows come home. But more importantly, the line does not carry Chanel-like price tags: prices range from $50 for a canvas tote to $1000 for a leather coat. The collection, available exclusively on Net-A-Porter January 25th, is classic Lagerfeld: black and white with a dash of pretty pink. The 70 pieces are heavily influenced by motorcycle chic -- think Claudia Schiffer and Linda Evangelista circa 1990 dripping in pearls and outfitted in boucle jackets and leather boots. As I type this in the leather fingerless gloves courtesy of KARL I'm dreaming of what I'll spend my pennies on come Wednesday. Vote on your favorite KARL look in our gallery below.
FASHION RELATED LINKS YOU MAY LOVE:

Karlie Kloss Has Her Cake And Eats It, Too - The Cut

18 Styles That Celebrate The Year Of The Dragon - iVillage

NYC Street Style, Video Edition - Refinery29

25 bras under $25 - Lucky

Backstage at Paris Men's Fashion Week - Daily Beast
BEFORE YOU GO