It's not rare for designers to find inspiration in earlier designers' work (read: every designer and her mother who has referenced Christian Dior's New Look).
After glimpsing pics of the latest Jantaminiau collection, which walked the couture runway in Paris today, our minds immediately jumped to Alexander McQueen. Jantaminiau, designed by Dutch designer Jan Taminiau, presented a collection full of pale chiffon, sparkling studded details and even a few shiny helmets to juxtapose the softness of the fabrics.
Taminiau also put his models in towering platform booties encrusted in sequins that reminded us of Alexander McQueen's now-iconic "armadillo shoes."
For his "Plato's Atlantis" Spring 2010 collection, McQueen designed 10-inch tall booties, each with a dramatically curved front and all sorts of gilt embellishments. They were artful, daringly high and so impossible to walk in that three models dropped out of the show rather than attempt to wear them on the runway.
They were also distinctly McQueen, who designed for the most imaginative and adventurous dressers. In other words, Lady Gaga and Daphne Guinness were two of the only women to wear them in real life.
The "Armadillo Shoes" are so distinctive a design that we couldn't help but notice the similarity between them and Jantaminiau's heels today. Although we can't get a perfect view, one certainly reminds us of the other.
Taminiau has created sculptural, dramatic shoes in the past -- but are these too close for comfort with McQueen's memorable Armadillos?
PHOTOS: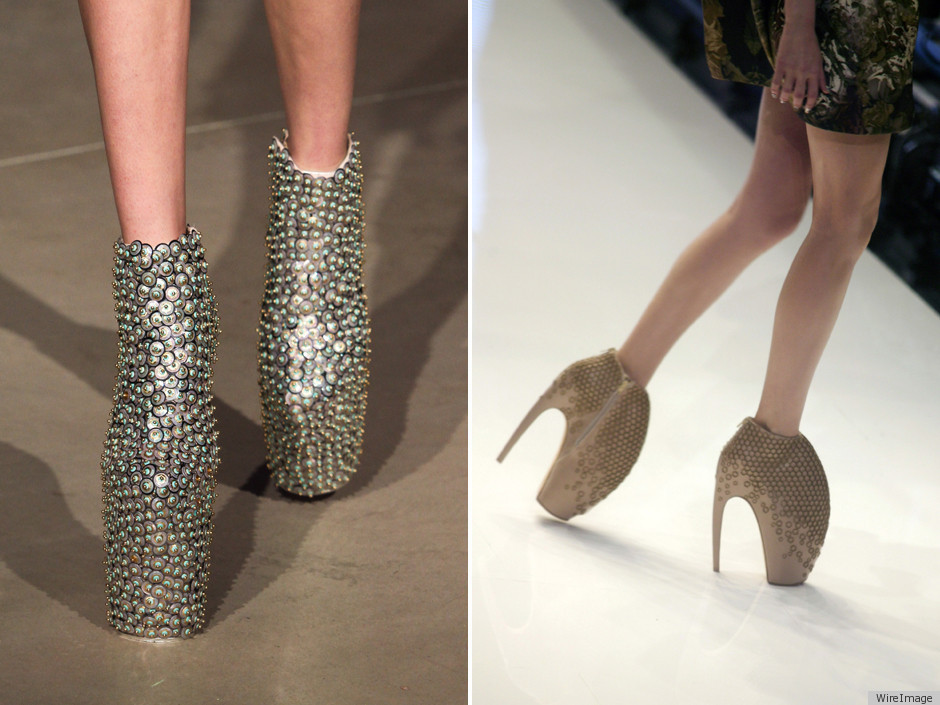 PHOTO GALLERY
Jantaminiau Couture S/S 12