Our favorite sad girl Fiona Apple hasn't released a studio album since 2005's brilliant Extraordinary Machine, but if a certain Twitter feed is to be believed (and Twitter feeds are always to be believed), we're in for a satisfying 2012. In the wee hours of Sunday night, music empresario LA Reid tweeted two exciting statements:

Promising but not precise. Luckily, some fact-hound known as sdiggz got on the case, diggzing away.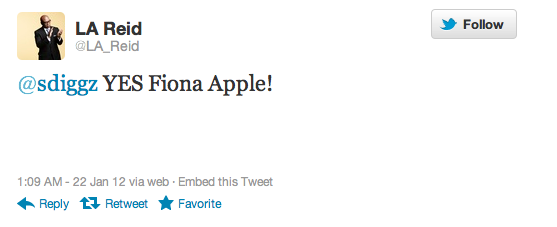 This isn't the first instance of someone tweeting about Apple's new album like its arrival is imminent (and we all know how that turned out, MICHELLE BRANCH). But the promised spring 2011 release date came and went. A side note in a Grantland concert review from last fall cites an exchange between Apple and her longtime collaborator Jon Brion that indicates that she's already written the album and is just as frustrated as her fans by the delay:
"(At one point, a fan requested new material. "I can't remember [how to play] any of my new songs because they've been done for a fucking year," Apple replied. "Not her fault!" said Brion.)"
Let's hope she puts on her angry face (doesn't take off her angry face?), corners some execs, and recites those four words we know she can belt so well.