Many people who take up crocheting do so not entirely for the product but for the process, the smooth rhythm of loop after loop, knot after knot, continued ad infinitum. Eventually the ritual becomes a kind of madness, and yet crochet is still the cure for stressed out urbanites and rural dwellers alike. This endless weaving together of art and life both consumes and feeds Polish artist Olek.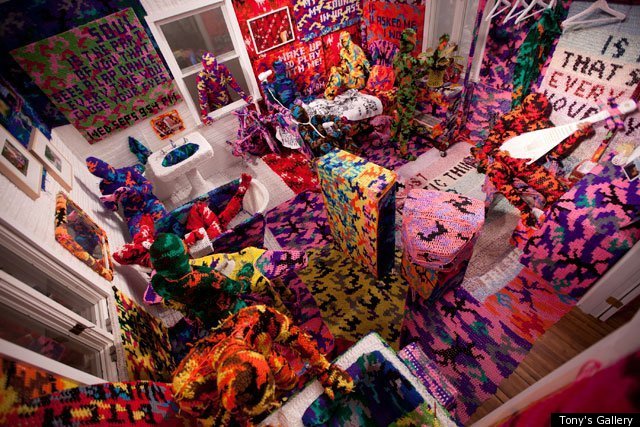 Olek crochets everything, everywhere, from bicycles to bicyclists to bridges to bulls to entire rooms, furniture included. She even covered the Astor Place cube late one night last year. There is an element of street art in Olek's immersive knits, though she strongly differentiates herself from amateur "yarn bombers." There is a giddy madness to her insatiable urge to crochet. It sometimes feels as thought she will not stop until the whole world is covered in neon camouflage. (We're really hoping that is the case.)
Not only physical spaces are susceptible to being woven into this ever-growing crochet work. The films Olek watches, texts she receives, even her medical reports are all included in her crochets. Life and art are fully weaved together, until, of course, they unravel, or until the authorities take it down. The New York based artist actively fills the community with color, life and surprise; which is why her art has resonated with such a large audience worldwide.
Her works will be exhibited in a show entitled "i do not expect to be a mother but i do expect to die alone" at Tony's Gallery from January 27 until March 23.
PHOTO GALLERY
Olek Takes London
BEFORE YOU GO