One year ago today, on January 25, 2011, thousands of Egyptians filled Tahrir Square and univocally demanded the resignation of the country's longtime leader Hosni Mubarak.
Mubarak had ruled Egypt for nearly 30 years, taking power after former Egyptian president Anwar Sadat was assassinated by Islamist militants in 1981. "The burly former air force commander has proved a far more durable leader than anyone imagined at the time," Reuters wrote of the strongman. Mubarak and his security services kept a tight grip on the country, allowing minimal opposition.
Yet after three decades in power, a popular uprising forced the long-time president to step down.
On January 25, 2011, the Associated Press reported from Tahrir:
Thousands of anti-government protesters, some hurling rocks and climbing atop an armored police truck, clashed with riot police Tuesday in the center of Cairo in a Tunisia-inspired demonstration to demand the end of Hosni Mubarak's nearly 30 years in power.

Police responded with blasts from water cannons and set upon crowds with batons and acrid clouds of tear gas to clear demonstrators crying out "Down with Mubarak" and demanding an end to Egypt's grinding poverty, corruption, unemployment and police abuses.
Mubarak was eventually forced to resign. On February 11, after 18 days of protests, the president submitted his resignation. Mubarak left the capital for the Red Sea resort of Sharm El-Sheikh where he was arrested and charged with corruption and complicity in the killing of protesters.
Mubarak's trial has unfolded over the last six months, and prosecutors recently announced that they are seeking the death penalty for the former president, his two sons and former interior minster Habib El Adly.
Needless to say, it's been a rough year for Mubarak. One year after Egypt's revolution kicked off, HuffPost World catches up with where the former president has been since last January 25.
Captions courtesy of Reuters.
Follow live updates from Tahrir:
01/25/2012 2:41 PM EST
One Year After Tahrir
See updates from earlier today below.
01/25/2012 2:06 PM EST
Should The Military Return To Its Baracks?
Many of the protesters in Tahrir Square want to see an end to the rule of the country's military council. Yet opposition leader Mohamed ElBaradei told the Associated Press earlier today that the power of the military is not a top priority.
I don't think that is the issue right now. What we need to agree on is how to exactly achieve the revolution's goals starting by putting down a proper democratic constitution, fixing the economy, security and independent judiciary and media and making sure the people who have killed those people are prosecuted.
01/25/2012 1:20 PM EST
Tens Of Thousands Marched In Cairo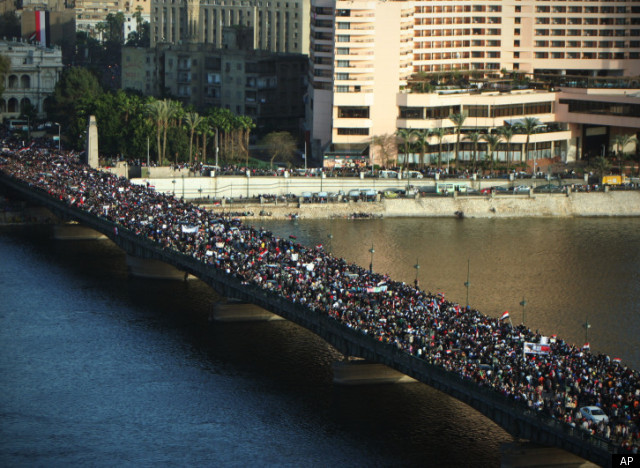 01/25/2012 12:04 PM EST
A Divided Crowd?
Where should Egypt be heading? It is a question that strongly divides Egyptians gathered in Tahrir today.
Egyptians gathering on the Jan. 25 anniversary were in high spirits but divided between activists demanding a swift end to army rule and Islamists celebrating their dramatic change in fortunes after emerging victors in a parliamentary election.

One group of mostly youths in Tahrir stood near a street where protesters clashed in November and December with police and the army, chanting "Down with military rule" and "Revolution until victory, revolution in all of Egypt's streets".

...

On the other side of the packed Tahrir Square, a vast plaza where protesters fought fierce battles with police during the 18-day uprising last year, supporters of the once banned Muslim Brotherhood and other Islamists grouped to celebrate.

"I'm very happy with the anniversary of January 25. We never dreamed of this. The revolution's victory was reaped with the elected parliament," said Khaled Mohamed, 41, a member of the Brotherhood whose Freedom and Justice Party (FJP) secured the biggest bloc in parliament after the first free vote in decades
01/25/2012 11:54 AM EST
Tahrir After Sundown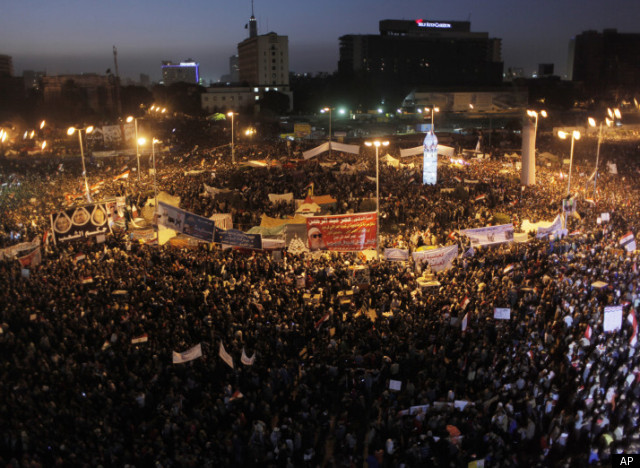 01/25/2012 11:31 AM EST
SCAF Statement
Egypt's Supreme Council of the Armed Forces released a statement that emphasizes the role of the country's military in the revolution, Al-Masry Al-Youm reports.
The newspaper also writes SCAF said it will reveal secrets that "will make Egyptians proud of their armed forces."
According to a translation by Al-Masry Al-Youm , SCAF wrote on its Facebook page that "One whole year has passed since the outbreak of the 25 January revolution, but it is still not the time to disclose several facts concerning the months that preceded the revolution so that it will not be said that we are trying to beautify our image... The time will come when we will talk while we are at our units protecting the land, skies and seas of Egypt. Then we will reveal several truths that will make this nation proud of its armed forces."
01/25/2012 11:05 AM EST
Tahrir Now And Then
Today's scenes at Cairo's Tahrir Square are impressive, but remember the images from a year ago? Take a look at HuffPost's photos from the start of the protests last year here.
01/25/2012 10:32 AM EST
Thousands Head To Tahrir
Thousands of people keep heading to Tahrir. The square is packed.
@ mlotfyamnesty :

Tahrir as packed as when mubarak left power. A mix of celebration and of chanting against military. Syrians join in #jan25
01/25/2012 10:18 AM EST
Egypt's Economic Woes
On the anniversary of Egypt's revolution, The New York Times takes a look at the economic challenges the country's new rulers are facing. The newspaper reports Egypt is struggling with the combined challenges of mounting debts, negligible economic growth and dwindling foreign reserves.
Click here to read the full article.
01/25/2012 9:53 AM EST
Tahrir Earlier Today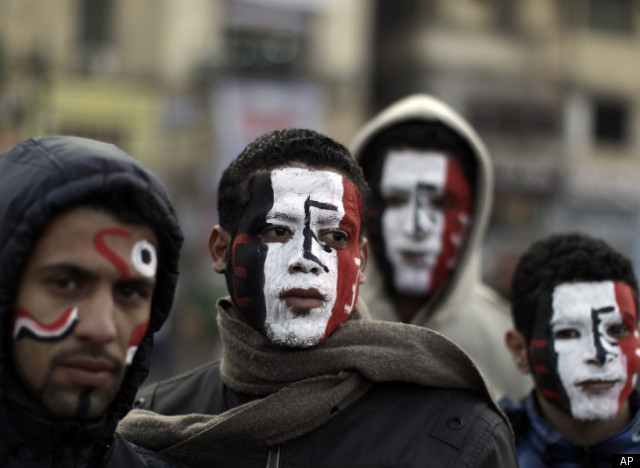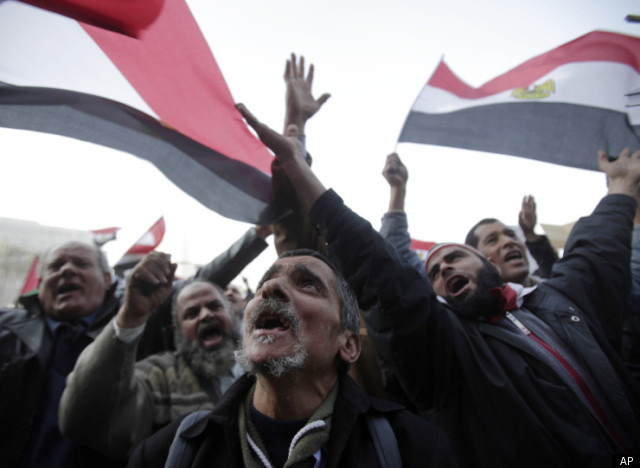 BEFORE YOU GO