Dear Hollywood,
Tuesday's nominations for the 84th Annual Academy Awards got the world a little hot and bothered. Of course we're excited to see talent receive recognition, but obviously we want to see what you're wearing for such a momentous occasion. We've noticed actresses playing it safe -- too safe -- on the red carpets of late, and we can't figure out why. I mean, we can take a guess: are they afraid of ending up on a worst-dressed list? As the people who author one of those lists, allow us to tell you a little secret: they're arbitrary. They're all about personal opinion. If the color doesn't photograph well or the bias cut looks a little wrong or the author just doesn't share your personal taste, there's a good chance you'll get there anyway. About a 50% chance always. So with those odds in mind, we're proposing you do what you, as creative types, do best: get creative!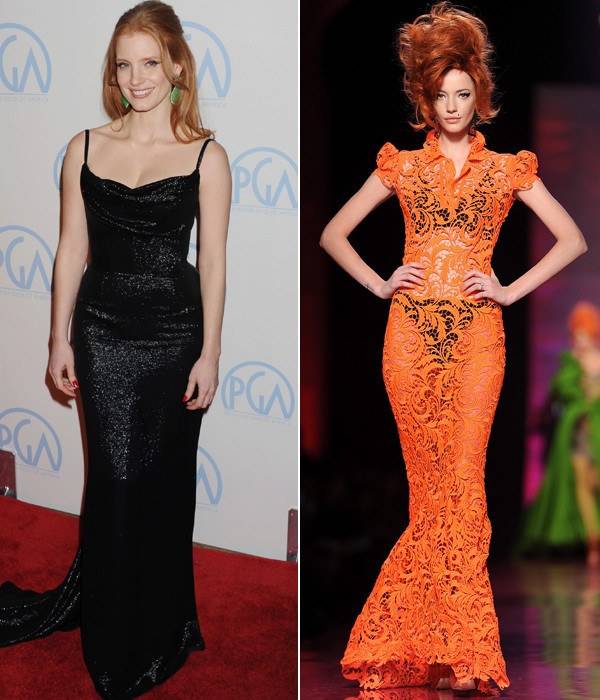 Photo Credits: Getty Images
The Golden Globes was a sea of neutral colored gowns which, while pretty, had us yawning. We yearn for the days when actors showed some personality on the red carpet: Sharon Stone in a GAP button-down in 1999, or Bjork's swan dress in 2001. Extreme? Yes. Boring? No.
And a word to the newcomers amongst you: be daring. You have the rest of your lives to be boring! Rooney Mara, how about some color? Jessica Chastain, you received the news about your nomination at the Armani Prive show in Paris; let the man himself dress you! Look what he's done for Gaga and Beyonce. The couture collections just went down the runways in Paris -- kindly take some cues from the couturiers and make a splash. Why not? People end up on the worst-dressed list for being boring too. Please give us something to talk about on Monday morning. We've given you some specific suggestions below.
Thanks for listening and see you on February 26th . And not just see you, but really notice you too.
Love,
Stylelist
PHOTO GALLERY
Style Wishlist For Oscar Nominees
CELEBRITY RELATED LINKS YOU MAY LOVE:

Emma Roberts Turns Up The Heat At Sundance - FabSugar

You'll Never Guess Hilary Duff's Favorite Piece Of Maternity Wear - People Style Watch

Most Stylish Celeb Couples - InStyle

Men in Skirts: Kanye West, Marc Jacobs, and Others - Elle

Avril Lavigne's Nail Line for Sally Hansen Definitely Includes Skulls, Stars And Sparkles - Racked
BEFORE YOU GO