Next week, a gas station on Fairfax Avenue and Beverly Boulevard will be selling two gallons of gasoline for the price of one -- and it's all to fan the flames for Comedy Central's soon-to-debut show Key & Peele.
A billboard directly above the gas station clues commuting Angelenos in to the 12-hour free gas giveaway on Tuesday, Jan. 31. It came to our attention in a Tumblr post from Los Angeles resident Peter Atencio. In keeping with the show's tagline, Atencio wrote, "If you don't come get free gas, you're racist." Our take? if you live anywhere near that intersection, you're either going to get screwed in gridlock traffic or be first in line for a gas handout.
Photo by Peter Atencio.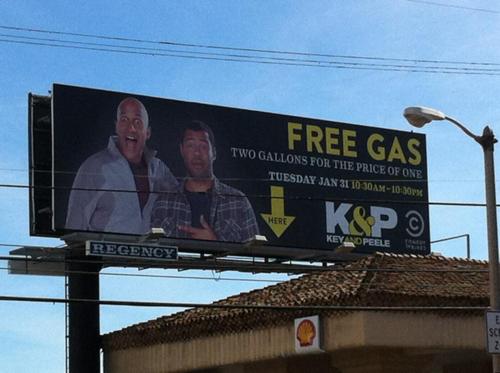 "I'm not sure when it went up, but I saw it up yesterday on my way to work," Atencio told the Huffington Post in an email. "I live in Echo Park, but I'll definitely be stopping by on Tuesday to partake," he added.
Sergio Falazar, the manager of the gas station, confirmed the details to the Huffington Post but admitted, "so far, they haven't given us too much information."
The sketch comedy show features comedians Keegan-Michael Key and Jordan Peele. From what we can tell, the show's a Portlandia-style collection of short clips that lovingly lampoon a culture. YouTube preview videos range from African-American fraternities to President Barack Obama. Watch one of Key & Peele's sketches, "Where's My Mayo?" which plays on the President's famously cool demeanor. Warning: film contains explicit language.