The November opening of the Clyfford Still Museum has invigorated the local art scene in Denver, CO, but long before the commotion, David B. Smith Gallery has consistently provided the region with cutting-edge contemporary art. As part of a city-wide initiative to celebrate the opening of the Still museum, the gallery enlisted the help of Liz Miller. The mixed-media artist crafted an exhibition that pays respect to the great abstract expressionist by venturing beyond mere tribute and keeping Still's rebellious spirit intact.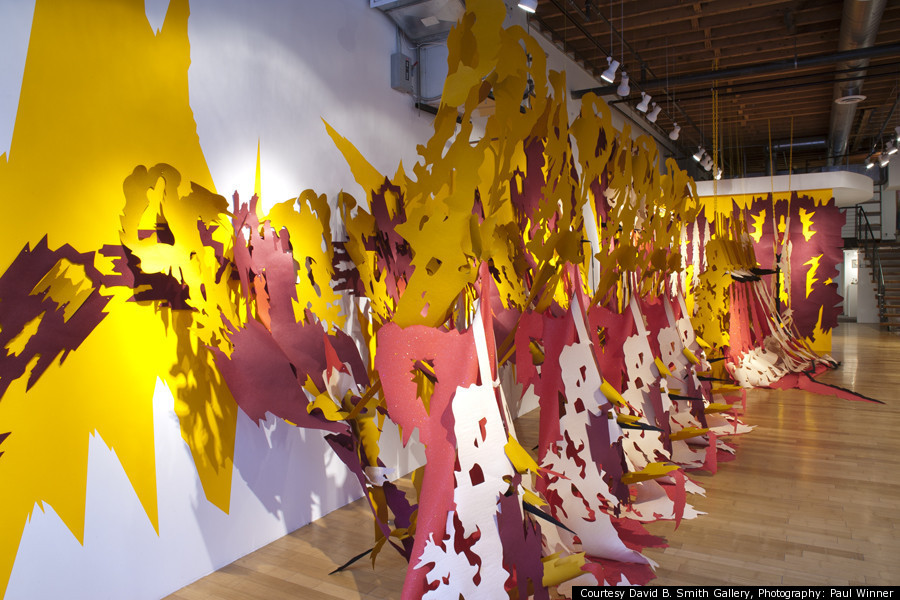 Liz Miller, Recalcitrant Mimesis, 2012, Mixed media, Dimensions variable
Miller turned the gallery space into a navigable jungle for "Recalcitrant Mimesis," featuring an immaculate installation and delicate works employing a variety of materials. "Mimesis," meaning mimicry or superficial resemblance, accurately represents the work and how Still's influence is merely a stepping stone rather than a bible.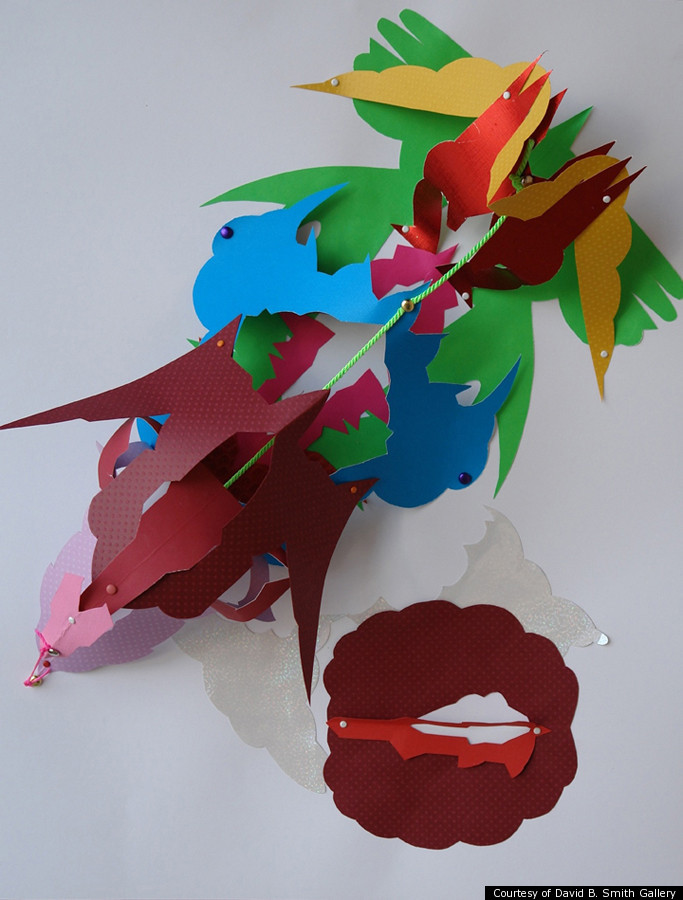 Liz Miller, Untitled 18 (Mimetic Deception), 2012, Mixed media on paper, 24.5 x 19.5 x 8.5 in., framed
The work takes thematic cues from Still, such as his palette and lively brush strokes, transforming them through the use of new media. And yet, while on the surface it references Still, Miller manages to create her own distinct experience. The work accompanying the installation clearly shows Miller's perspective, leaving the viewer striving to contextualize the forms while failing to mutter a single thought. There are elements that are familiar, but making total sense out of the figures would be a fruitless and frankly misguided task to take on.
Though Miller's works with pre-existing shapes, her removal of forms from their original context creates a world free of presumption. Though it is technically a collaborative effort by the Still museum and the gallery, "Recalcitrant Mimesis" is capable of standing on its own two feet, enjoying the sunlight as opposed to existing in Still's shadow.
View a slideshow of "Recalcitrant Mimesis" on display at David B. Smith Gallery in Denver until February 18th, 2012 below.
PHOTO GALLERY
Liz Miller - Recalcitrant Mimesis
BEFORE YOU GO