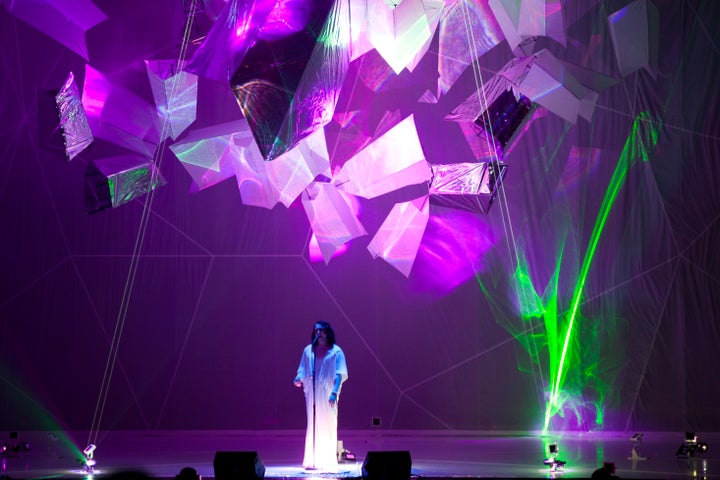 Last night, Antony and the Johnsons performed a piece specifically commissioned by the Museum of Modern Art at Radio City Music Hall. Antony Hegarty commanded the stage wearing a white Ohne Titel gown and backed by a 60-piece orchestra. Chris Levine and Paul Normandale arranged the lighting and Carl Robertshaw designed the impressive set. In the program notes, Klaus Biesenbach, the Director of MoMA PS1, wrote that the first time he saw Antony perform, "his stage presence was exhilarating, nearly incandescent."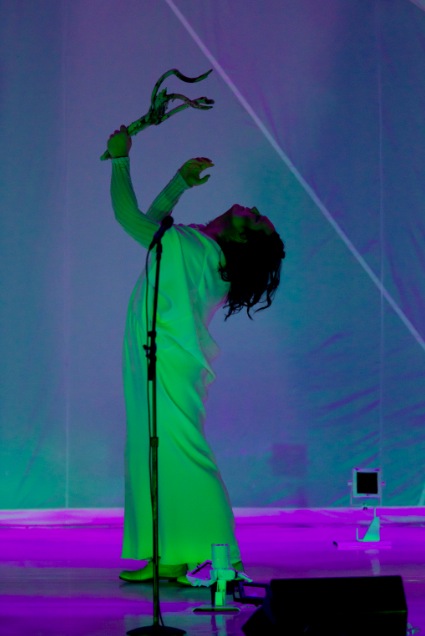 Photo: Angela Cranford/MSG Photos
For the performance at Radio City, Antony's vision was to create an experience in which he was dead, floating underwater "and filled with crystals of light." In an interview with Jonathan L. Fischer from The New York Times Magazine, Antony explained, "The idea for the piece was to imagine a quartz crystal. We retrieve it from the center of a pitch-black mountain, and yet it has luminosity." Through talks with Marina Abramovic, Antony began to envision the lighting progressing from dark to light, telling Interview Magazine that "we're really pursuing, as I said, this idea of luminati and also of stillness."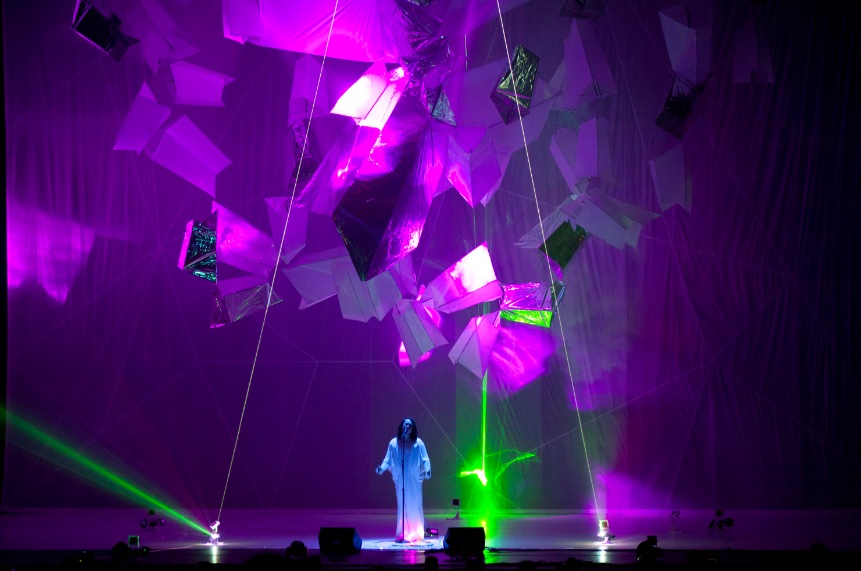 Photo: Angela Cranford/MSG Photos
HuffPost Arts was there and we can assure you that the experience was, in all sense of the word, magical. He sang songs from all of the Antony and the Johnsons albums, including the heartrending ballad, "For Today I Am A Boy." Halfway through the set, he shifted the tone and performed quite possibly the most bizarre and beautiful rendition of Beyonce's hit, "Crazy in Love." It was a transcendent experience, although the line "hoping you page me right now" was a little weird, if we're being honest here.
See the "Swanlights" video below and let us know what you think in the comments section.
CORRECTION: In an earlier version of this article, we foolishly claimed that Klaus Biesenbach was the Director of MoMA, not PS1. We also spelled Antony Hegarty's last name wrong. Forgive us, dear readers? It's Friday afternoon, after all.
BEFORE YOU GO