Despite 2010 campaign promises that they'd turn over the redistricting process to an independent commission, New York state legislators are drafting maps of their own in Albany. Previous redistricting has bolstered re-election rates for incumbents in the state legislature to a staggering 95 percent.
The New York Observer took the ugliest senate drafts to create a great slideshow called "The 20 Ugliest Gerrymandered Districts." One map, which they've titled "Ancient Knife," shows a district starting in Marble Hill in the upper reaches of Manhattan and creeping all the way down to 24th street in slim sliver of land along the Hudson.
The senate, held by the GOP with a slim majority, also proposed a plan to wipe disgraced state Sen. Carl Kruger's district off the map entirely, The Brooklyn Paper reports.
And in Queens-where both the assembly and senate want to create Asian-majority districts--two districts spell out an expletive , as noted by @BrooklynMFS, perhaps directed at Ed Koch. Or maybe the constituents?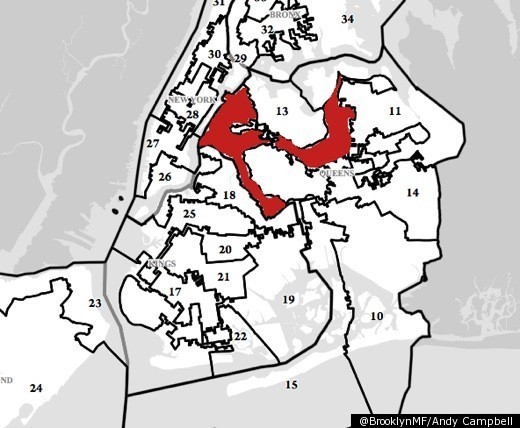 Six traditionally Democratic districts in Queens would be combined into just three. New York City councilman Lew Fidler (D-Marine Park) told The Paper , "[The proposed lines] are disgustingly partisan in nature. This is politics at its very worst."
For a more on the redistricting plans, Capital New York has a comprehensive rundown of all the changes.
Governor Cuomo has vowed to veto the current plans, saying they have to come through an independent commission. A spokesman for the governor told Capital Tonight, "At first glance, these lines are simply unacceptable and would be vetoed by the Governor. We need a better process and product."