Got a success story of your own? Send it to us at success.stories@huffingtonpost.com and you could be featured on the site!
Name: Dawn M. Barclay
Age: 52
Height: 5'5"
Before Weight: 193 pounds
How I Gained It: Growing up, my family never emphasized good nutrition. My mother was overweight and always noshing on sweets. My grandmother lived with us and did the cooking, but I didn't like her food, so I was raised on frozen entrees -- all high-calorie processed foods, most with cream sauces and lots of starch. I was overweight by age 10, and first tried to lose weight at 13, when my mother sent me to charm/modeling school. I went up and down over the next four decades, trying all kinds of diets, including Atkins, Scarsdale and even hypnosis. The most successful was Weight Watchers, which I tried at 18 and again at 40. At that point, I lost 80 pounds and looked anorexic because of all the running I was doing. But the problem was that I always reverted to my old way of eating. After I achieved a weight-loss goal, I gained back all the weight at twice the speed I had lost it. I was the quintessential yo-yo dieter, totally addicted to sugar and carbs. I had entire wardrobes ranging from size 4 to size 16.
By the time I was 51, I was on meds for high blood pressure, high cholesterol and hypothyroidism. I was sluggish and depressed and my size 16s were getting tight. My knee hurt so badly I couldn't walk more than a quarter of a mile at a time, putting a real strain on my relationship with my family since I couldn't keep up with them. I was also told I was on the verge of glaucoma.
Breaking Point: My wake-up call came in the spring of 2011 when my doctor said my blood sugar was elevated and I was pre-diabetic. He told me how diabetes, along with my high blood pressure and high cholesterol, could lead to even worse health problems, like heart disease. I had friends on three different medications to lower their blood sugar; I really wasn't interested on going on more pills.
How I Lost It: On July 20, 2011, after reading Wheat Belly by William Davis, M.D. and Sugar Blues by William Dufty, I came to terms with my sugar and grain addictions and realized that I'd never be able to eat them the way a normal person could. I cut them out entirely, along with most dairy (I use almond milk and cut cheese intake by about 90 percent), most red meat, caffeine, artificial sweeteners (I use Stevia), alcohol, caffeine and carbonation.
I stopped eating almost all processed foods and lived on fresh chicken, fish, beans, lentils, nuts, nut butters, vegetables, fruits and limited healthy fats, like olive oil. I tried to eat foods that wouldn't increase my glycemic levels. All I drank was water and decaffeinated tea. Almost immediately, the cravings for sugar and carbs disappeared. I also saw a doctor about my knee, who directed me to physical therapy and orthotics. After about six weeks, I was able to walk normally and work out. I started hitting the gym, getting into the habit of going right after dropping my son off at school in the morning. I developed a regular routine, using the elliptical and rowing machine for an hour, six times a week, and completing a weight-lifting circuit three times a week. My weight came off at a rate of two and a half pounds a week, and I was never hungry. I slept better and my back pain disappeared. I also went to an ophthalmologist who put me on drops for my eyes. After a few months, I was out of immediate danger for glaucoma (I'll always be a "suspect"); exercise had been a big help, the doctor told me, since it increased my blood flow.
In September, I got my blood sugar checked and it was at a normal level -- no more pre-diabetes! By mid-November, I hit a normal BMI, and in mid-December I reached my weight-loss goal. I'm back to wearing my size 4s and 6s and am buying out the consignment shops! In December, I competed in an indoor rowing competition for charity, rowing over 150,000 meters over the course of a month. I've come to terms with knowing that sugar and grains (especially wheat!) can never be a part of my diet. I plan to go back to my doctor in the next few months to see about getting off my cholesterol and blood pressure meds. Life is so much better now, and I've even inspired some friends and family to take better care of themselves. That's a victory in itself!
After Weight: 139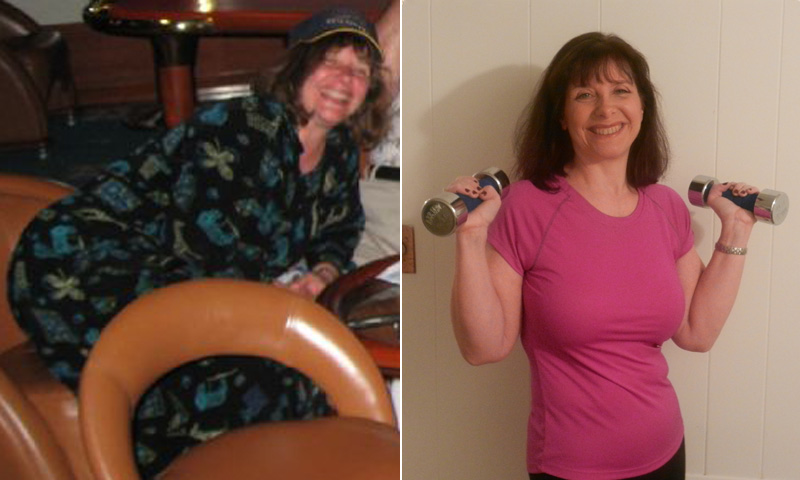 For more on weight loss, click here.
Check out more of our inspiring weight loss stories below:
PHOTO GALLERY
Weight Loss Success Stories