By now you've probably seen Buff Monster's candy-colored mural on the Standard Hotel; it's hard to miss puffy pink clouds and a walking ice-cream cone on the streets of Downtown Los Angeles. But if you haven't made it to Sixth Street yet, check out this video of the street artist doing his thing. And in case you were wondering who the spry assistant is, that's Bernard Monster -- Buff's dad!
Buff Monster finished the mural in early January, and the piece will be up through the end of February. Right now, The Standard is offering a special dish in honor of the artist called the "Buff Monster Dessert."
Photo of the artist with his signature dessert courtesy of Buff Monster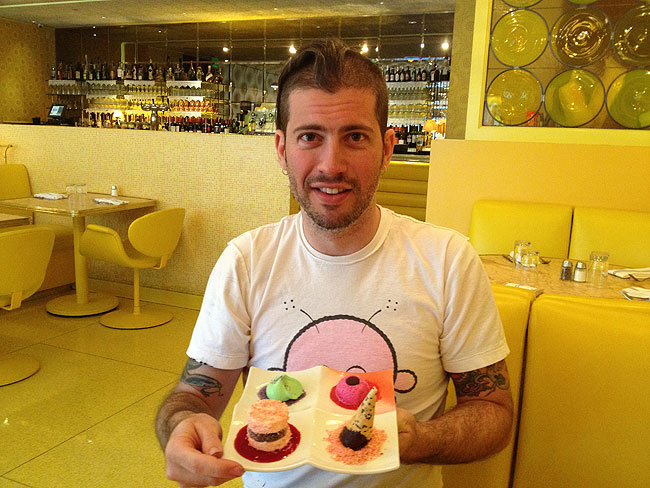 In an interview with The Standard's culture blog, the artist revealed that after 14 year in Los Angeles, he's seriously considering a move to the Big Apple. Would he be convinced to stay if we all turned out to his show opening on April 14 at the Corey Helford gallery? At the very least, we could sing him a happy birthday; the exhibit opening shares the same date as his birthday.