Dan Gilbert is adding yet another building to his downtown Detroit real estate portfolio. The Quicken Loans chairman announced Monday his umbrella company, Rock Ventures LLC, is set to close on the Federal Reserve Building at 160 W. Fort St.
The 1927 building and its 1951 glass annex have been vacant since 2004. Gilbert said Rock Ventures would seek a single large tenant for the 176,000 square-foot space.
There had been some speculation that Chrylser was considering a move from its offices from Auburn Hills to space downtown in the Gilbert-owned Dime Building, but Gilbert declined to comment on any deal with Chrysler for that building or the new Federal Reserve space.
The Federal Reserve Building is conveniently located on the same block as the Dime Building, which Gilbert purchased in August, and just a short walk from Quicken Loans' headquarters in the Compuware Building and Chase Tower.
Gilbert has bought so many buildings downtown in the last year he couldn't remember just how many when asked at the Monday announcement at the Madison Building. The answer is nine.
Nine buildings all between Campus Martius Park and Grand Circus Park, with two parking structures and a parking lot added to the mix.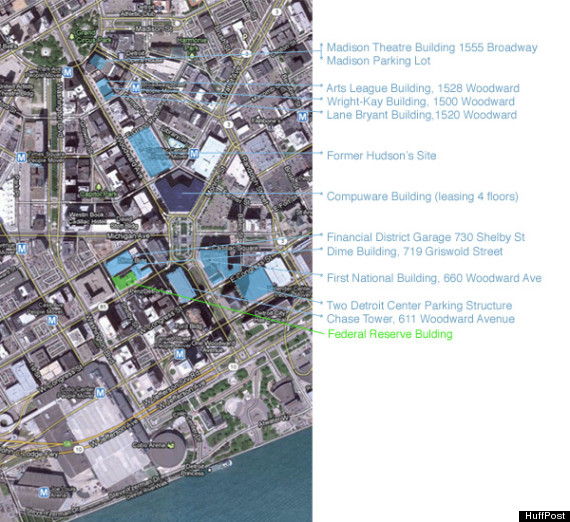 The Madison Building is another 2011 purchase, a former theater now rebranded as the M@dison hub for tech start-ups and venture capital firms, including Detroit Labs and Detroit Venture Partners.
Gilbert said he had no imminent plans for further purchases downtown, but "as long as they're available" he would continue looking to invest.
Dan Mullen, the acquisition manager for Bedrock Real Estate, which oversees many of Gilbert's real estate investments, said this would be a "software year" for the company's holdings, meaning an emphasis on finding tenants and leasing already-owned space rather than acquiring new property.
Gilbert has so far focused on buying and renovating office space, though he cited the need for more residential space downtown. He noted the possibility of developing residential property on the old Hudson's Department Store site, for which he just secured a 15-year Renaissance Zone tax credit from the city.
Read more about Gilbert's aggressive real estate strategy: "Dan Gilbert's Detroit Real Estate Deals Mark Ambitious Development Plan"