Auguste Rodin was considered a master of modern sculpture, although he had no personal goal to rebel against the past. Perhaps that is why Rachel Kneebone's exhibition 'Regarding Rodin', despite it being a sort of love affair between Rodin's work and Kneebone's, feels unmistakably modern. It's an erotic homage to Rodin's legacy and work (which also functions as an homage to Camille Claudel, Rodin's talented assistant who was also his lover and muse).
Rachel Kneebone's upcoming show at the Brooklyn Museum places her large-scale porcelain sculptures in conversation with Rodin's iconic 19th century casted works. The exhibition will feature 15 works by Rodin and eight by Kneebone. Her largest work to date, 'The Descent' will be the show's centerpiece. The work is based on Dante's 'Inferno', as was Rodin's epic 'The Gates Of Hell.' Yet the time gap between the two artists is barely visible. Perhaps this has something to do with both artists focusing on subject matter that takes place outside of time: whether in the ecstatic moment of orgasm or the miserable eternity of the damned.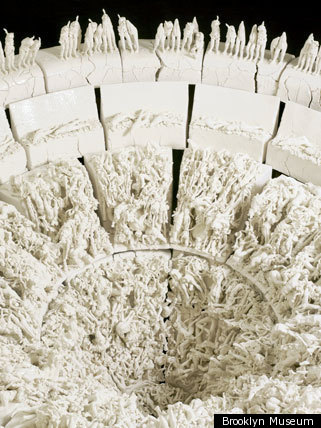 Both Kneebone and Rodin take out-of-body, out-of-time experiences and emotions and literally set them in stone, capturing the ineffable moments of ecstasy and death through the vessel of the human form. Kneebone's works contain a classical cleanliness to them and yet the figures writhe and swarm into each other in arguably messy ways. Overflowing mutations ooze between the perfection of the bodily forms, creating a flux both sexual and grotesque. The sculptures' careful attention to detail is both mesmerizing and unsettling. Through a comparison of the aesthetic sense of the two artists, you can see how much more fluid the bounds of the human body have become.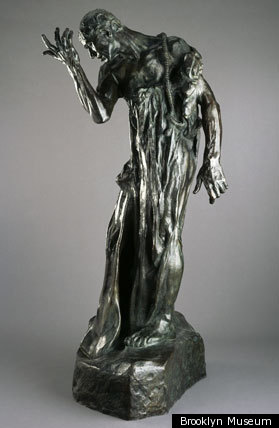 Come witness bodies in all their heightened contortions, and tell us what you think of the slideshow below in the comments section.
The exhibition is at the Brooklyn Museum until August 12.
PHOTO GALLERY
'Regarding Rodin'