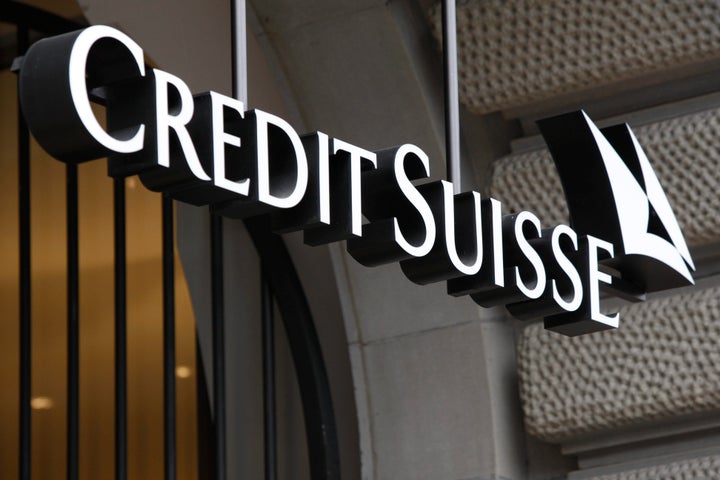 Federal prosecutors are expected to charge four former Credit Suisse brokers with criminal fraud for misleading investors by inflating the value of subprime mortgage derivatives to increase their own bonuses, reports the Wall Street Journal. In addition, the Securities and Exchange Commission is expected to file civil charges related to the case.
The charges are related to an incident in February 2008, when Credit Suisse suspended a group of traders for their role in a $2.85 billion overvaluation of asset-backed securities, which caused the bank to take a $1 billion hit in its first-quarter earnings that year. The banking giant itself reportedly won't be charged.
After years of criticism and public outrage over the lack of criminal prosecutions of Wall Street traders and executives whose risky trading helped cause the financial crisis, the Justice Department and the Securities and Exchange Commission seem to be finally taking action. Last week, it was reported that DOJ was probing possible fraud at WMC Mortgage Corp., the former subprime mortgage division of General Electric, and more such cases from DOJ and the Securities and Exchange Commission are reportedly due in the coming months.
The rogue traders suspended by Credit Suisse in 2008 were not named, but they reportedly included Kareem Serageldin, the global head of synthetic collateralised debt obligations (CDOs), and others working on his derivatives team at the bank's London office.
"Serageldin has been dismissed after an internal review, assisted by external lawyers, which examined thousands of emails and held face-to-face interrogations," reported The Guardian in March 2008.
Serageldin could not be located and it is not clear if he is involved in the pending case.
Private Equity Saviors Played Role In Housing Bubble
Private equity has become anathema to even many free-market-loving Republican primary voters, but can it help solve the housing crisis? The answer is crucial, considering that some of these would-be saviors helped crash the economy in the first place.
Saddled with 180,000 foreclosed homes, the Federal Housing Finance Agency last fall requested proposals to sell them and offered some of them as rental properties. Prominent private equity giants, including Cerberus Capital Management, Deutsche Bank AG, Fortress Investment Group, Carrington Holding, Starwood Capital Group, TCW Group and UBS AG, were quick to respond, reports Bloomberg News.
But some of these potential saviors are led by executives whose firms helped cause the housing crash, lending an ironic twist to the heavily-touted plan. A subsidiary of Carrington Holding, which has partnered with Oaktree Capital Management to buy up to $450 million in vacant foreclosed homes and turn them into rental properties, settled in May a lawsuit filed by then-Ohio Attorney General Richard Cordray over its mortgage servicing practices. Carrington Mortgage Services, a major subprime servicer, was sued for "failing to provide homeowners with acceptable ways to avoid foreclosure," reported Reuters at the time.
"This lawsuit makes it clear that we have reached zero tolerance for this kind of behavior from loan servicers," Cordray said in a statement. "We've tried to work with them, but now we must take action." As part of its settlement last spring, Carrington committed to make good faith efforts to work with homeowners to modify loans instead of foreclosing on them.
And Fortress CEO Daniel Mudd recently took a leave of absence in the wake of a lawsuit filed by the Securities and Exchange Commission over accusations that he downplayed the amount of subprime loans when he ran Freddie Mac from 2005 to 2008. Mudd has stressed that the government and Freddie Mac investors were never misled about loans it held.
* In case you missed the theatrics at Tuesday's Senate Banking Committee hearing into the oversight of the Consumer Financial Protection Bureau, starring new director Richard Cordray and Sens. Richard Shelby (R-Ala.) and Sherrod Brown (D-Ohio), here's the video.
* It's been a long time coming but the Occupational Safety and Health Administration is finally getting around to updating its permissible exposure limits - most of which date from 1971 - which set how long a person can be exposed to a substance without experiencing harmful effects.
* The Food and Drug Administration has forcefully rejected a lawyer's petition to overturn the agency's 2010 recall of 53-year-old pain medication Darvocet in the wake of a study finding potentially fatal heart risks in healthy people who took the drug. In its tough reply to Barbara L. Maw, a Utah-based attorney who has rallied pain sufferers to write the agency to protest the decision, the FDA dismissed her numerous claims and asserted that its decision was scientifically sound and responsible.
* Safety regulators in Wyoming issued 19 citations for an explosion and fire that killed three workers near an oil well last year, but they declined to release the names of the companies involved until the firms are able to review the charges. James Turner worked for Double D Welding and Fabrication, Llewellyn Dort and Gerardo Alatorre worked for Wild West Construction and the site was operated by Samson Resources.
* And in another case of veiling the (alleged) wrongdoers, the CDC is withholding the name of a Mexican-style restaurant chain linked to a salmonella Enteritidis outbreak that has sickened 68 people in 10 states since October. It's definitely not Chipotle.