The former Massachusetts governor struck an optimistic tone in speaking to supporters on Monday. Ahead of the Sunshine State primary, he also didn't hold back in taking aim at rival contender Newt Gingrich.
Gingrich, who came in first in South Carolina, has mounted an aggressive strategy in Florida. Romney has dismissed attacks from the former House Speaker, calling his criticisms "sad" and "painfully revealing."
HuffPost's Paul Blumenthal reports on the forces behind Romney's momentum:
A newly feisty Mitt Romney, fighting for his political life, and his loyal super PAC unloaded on Gingrich in the Sunshine State with a massive spending binge that included wall-to-wall attack ads in a repeat of the assault that knocked Gingrich from the top of the polls in the run-up to the Iowa caucus.

The biggest spender in Florida -- the most expensive state in the Republican primary to date -- has been the pro-Romney super PAC Restore Our Future. Run by a trio of former Romney advisers, the group has spent $10.7 million in the state. The vast majority of that -- $9.9 million -- has gone into a barrage of ads, on television and radio, and direct mail attacking Gingrich. That's more than double what pro-Gingrich super PAC Winning Our Future is spending in Florida.
HuffPost's Mark Blumenthal reports:
Six new polls released late Sunday or Monday found that Mitt Romney's lead over Newt Gingrich ranges from five to 20 percentage points.

Some of the largest margins came from four polls that reached voters over both landline and mobile phones, including three surveys released on Monday.

...

Voter uncertainty, a hallmark of the Republican primary campaign for months, remains a potential factor in the outcome of the Florida contest. The latest Quinnipiac survey finds that more than a quarter of the likely Republican primary voters in that state either are completely undecided (7 percent) or say they might still change their minds about the candidate they are supporting (24 percent of those with a preference).

Florida election officials reported on Monday that 591,666 votes had already been cast in early and absentee voting, a number that would represent roughly 30 percent of the votes cast in the state's 2008 Republican primary. Needless to say, those who have already cast ballots can no longer change their minds.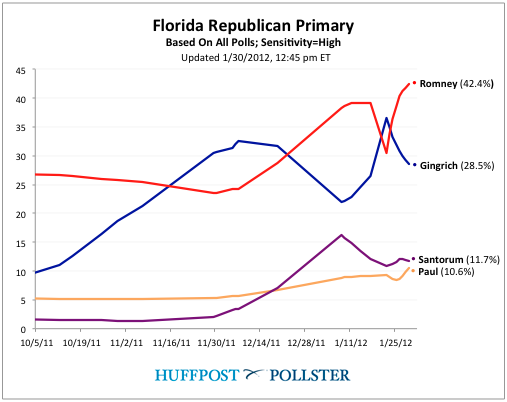 Check out the slideshow below for more on the Romney campaign.
PHOTO GALLERY
Mitt Romney 2012