Newt Gingrich attacked his way to victory in South Carolina and relied on a similar strategy to propel is campaign in Florida. In the Sunshine State; however, the former House Speaker goes into Tuesday's contest trailing rival candidate Mitt Romney and with dwindling odds of pulling out an upset win.
Gingrich has signaled he intends to continue his pursuit of the Republican presidential nomination regardless of the outcome of Florida's primary election.
Gingrich's announcement that he is taking his campaign to the Republican convention in Tampa is being dismissed as typical election season bluster. How else to describe a candidate without much money, dwindling momentum, and a truly narrowing path to the GOP nomination who is pledging to stick it out for the long haul?

But what if Gingrich isn't bluffing? The Republican primary process is, at its heart, a race for delegates: the first candidate to net 1,144 wins. By the time Floridians finish voting on Tuesday, just five percent of the total delegate pool will have been awarded. The upcoming states include a number of caucuses and southern primaries, the former of which play to Rep. Ron Paul (R-Texas)'s strengths and the latter of which work to Gingrich's advantage. The more delegates a candidate accrues, the larger his influence becomes over the party platform.

As one top Republican Party official said of Gingrich's proclamation: "Why would he quit?"

"We are already active in Nevada," Gregg Phillips, a top official with the Gingrich-allied super PAC Winning our Future, told The Huffington Post, of a state that will caucus on Feb. 4. "Our team has been competing in Nevada for about a month."

If, indeed, Gingrich refuses to dislodge himself from the process, the question then becomes just how many delegates he will be able to gain. The process of unraveling that mystery begins precisely where he and the rest of the GOP candidates currently reside: in the Sunshine State.
HuffPost's Mark Blumenthal reports:
Six new polls released late Sunday or Monday found that Mitt Romney's lead over Newt Gingrich ranges from five to 20 percentage points.

Some of the largest margins came from four polls that reached voters over both landline and mobile phones, including three surveys released on Monday.

...

Voter uncertainty, a hallmark of the Republican primary campaign for months, remains a potential factor in the outcome of the Florida contest. The latest Quinnipiac survey finds that more than a quarter of the likely Republican primary voters in that state either are completely undecided (7 percent) or say they might still change their minds about the candidate they are supporting (24 percent of those with a preference).

Florida election officials reported on Monday that 591,666 votes had already been cast in early and absentee voting, a number that would represent roughly 30 percent of the votes cast in the state's 2008 Republican primary. Needless to say, those who have already cast ballots can no longer change their minds.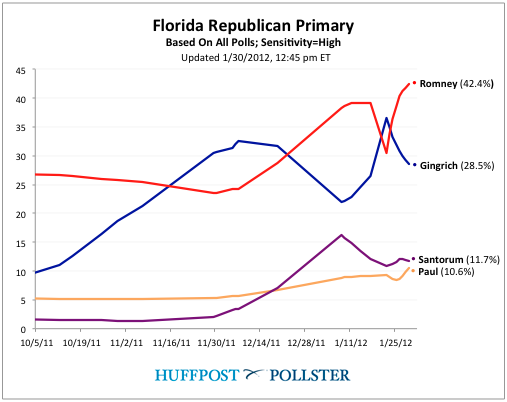 Check out the slideshow below for more on the Gingrich campaign.
PHOTO GALLERY
Newt Gingrich 2012