When Michelle Obama stunned in a sapphire-blue dress from Barbara Tfank at last week's State of the Union address, we didn't know a whole lot about the LA-based designer, other than that she's worked with FLOTUS before (such as when the first lady visited Buckingham Palace in one of her Resort looks last May) and has been collaborating with Adele since Anna Wintour introduced the pair in 2009. Here are some more fun facts about Tfank, who'll present her fall 2012 collection at New York Fashion Week February 13.
1. She didn't know FLOTUS would wear her dress to the State of the Union ahead of time. "It's the fourth time she's worn something of mine, but it was by far the most extraordinary because I was watching it on TV and I didn't even know she was wearing it," she reveals. "It was a huge surprise."
2. Her first celebrity client was Uma Thurman. As a design consultant for Prada, she created the lavender gown the actress wore to the 1995 Oscars when she was nominated for her role as Mia Wallace in "Pulp Fiction." "I wanted to do something fresh and clean, and she didn't want to look overly done up or sexualized. So, there was a channeling of Grace Kelly and Glenda the Good Witch in the Wizard of Oz."
3. Before launching her line in 2001, she began her career as a costume designer for various films, such as 1992's "A Midnight Clear." "It was all men, and it was a period film and it was mainly World War II uniforms," she recalls. "That was a departure from working in fashion."
4. She's not a slave to trends. "I feel like they put pressure on people to conform," she says. I think I'm more of a non-conformist and really try to encourage my customers to be themselves and do what they want with the clothes and personalize them. I go more after beautiful and sensual than trendy."
5. Or red-carpet fashion, for that matter. "I don't know what it is, but it just isn't something I really subscribe to," she says. "There are many people who look lovely, but when you ask me a year later what was a standout, I just don't really feel anyone has stood out as an individual. It's all very appropriate, and that's great, but I can't say it's inspiring to me."
6. Her work soundtrack consists of Japanese composer Minami Nozaki, French electronica band Cocosuma, and of course, Adele. "'Someone Like You' is the Adele song I love the most," she says.
7. Her daytime uniform includes a Hermes watch, Hermes garden bag, quilted Hermes jacket, James Perse pants and a Gap T-shirt. "That's what I wear for my studio, since I have to get a little dirty," she says. "But I love getting dressed up for parties."
8. Her inspirations? Classic film and nature. "Last season, we did Elizabeth Taylor, and this season my collection's based on 'the magic hour' which is a cinematic term for that moment right at sunset when there's an alignment of light and reflection. Certain films have been shot exclusively at that time, like Terrence Malick's 'Days of Heaven.'"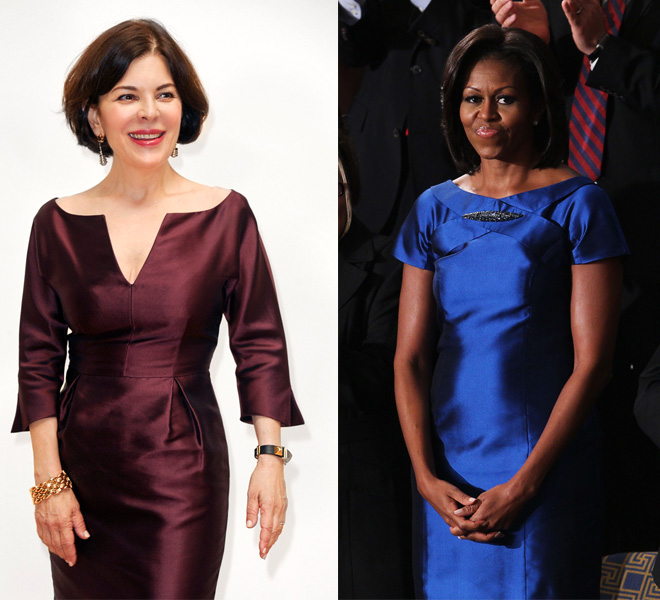 Getty
FASHION RELATED LINKS YOU MAY LOVE:

20 Fashion Trends We Hope Never Return - Glamour

Sneak Peek: Check Out The Adidas For Opening Ceremony Collection - FabSugar

15 Ways To Tie A Scarf - The Frisky

Sofia Coppola's Marni For H&M Campaign - Elle

Nanette Lepore Gives Us A Studio Tour, Drinks Bloody Marys - Racked