Students from the University of Connecticut have organized a meeting to discuss a possible sit-in, rally and protest in response to a comedy sketch about rape that aired on the school's student-run television station UCTV, according to an announcement posted to Facebook.
The sketch, which aired once in November and then again on Jan. 30 as part of the UCTV television series "Shenanigans," was posted to Gawker's website today after being removed from the station's website following complaints from students.
The sketch depicts a young woman fleeing through campus at night, apparently from a rapist. To her relief, the woman comes across one of the university's many "Code Blue Phone Kiosks," GPS-equipped emergency phone systems that allow students to call UConn's 911 services directly and wait for campus police as the machines flash warning lights.
But when the woman tries to use the emergency system to summon help, it misunderstands her words and a robotic voice calls her a "cock gobbler" and "howler monkey bitch" who is "crying rape," which gives the attacker enough time to catch up and strangle her in the parking lot.
Following the sketch's second airing Monday night, outrage erupted across campus with students calling for immediate action against UCTV, which is run entirely by students and funded in part by mandatory student fees, as well as taxpayer dollars.
As of Wednesday afternoon, nearly 500 students had confirmed on Facebook that they would attend a meeting in the Women's Center that night to discuss their next steps.
UCTV subsequently removed the sketch from its website and issued an apology to the campus community.
"We apologize for any frustration or harm the respective video clip has caused and all of us here at UCTV have learned from this event," the statement said. "We are reviewing our Broadcast Policies and Procedures to see whether there is more we can do in the future to prevent a similar situation from occurring again."
Unfortunately, it appears the station has a history of airing offensive material. According to Facebook posts from students regarding the incident, earlier episodes of "Shenanigans" included multiple instances sexism and misogyny.
"It's clear that this show has a track record of misogyny," one Facebook user wrote. "They go far beyond anything that could be attributed to artistic license or satire. I can't fathom how through all this controversy UCTV has not reviewed the other episodes and pulled them off their website as well."
The user also posted a screenshot from the third episode of "Shenanigans" to demonstrate his point: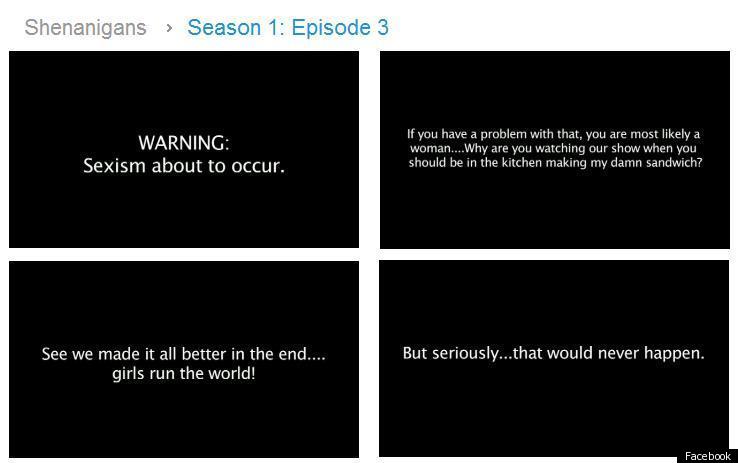 In a statement to the the Hartford Courant, UConn President Susan Herbst did not cast blame for the video and expressed a positive outlook on the situation.
"It looks like the station has taken the video down and apologized to the students it may have hurt and a healthy discussion is taking place in its wake about the seriousness of sexual assault," Herbst told the paper. "That's not a bad outcome."
WATCH the controversial UCTV sketch below:
BEFORE YOU GO