Trays are one of the most useful home accessories, so they make a great starting point for a mini-makeover. Exhibit A: This Craft Of The Day. You can lay the finished tray on the coffee table to contain remote controls, put it on the kitchen counter to catch house keys or use it for a romantic breakfast in bed. And hey, we're just in time for the Super Bowl -- how about using this tray as a serving piece? See what we mean about useful? Keep reading for the how-to!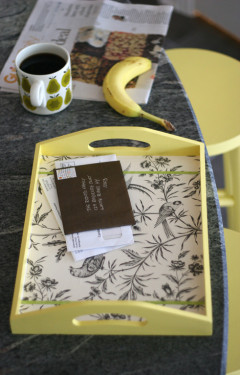 Photo by Jacinda Cannon Boneau of Prudent Baby
What You'll Need
Unfinished wooden tray
Paint (wood-friendly)
Decorative paper
Paint brush
Mod Podge
X-acto knife
Ruler
How To Make It
1. Paint your tray. (You can leave the tray surface uncovered because that is where the decorative paper will go.)
2. Let the tray dry.
3. Measure the inside of your tray and cut the decorative paper down to size.
4. Cover the entire bottom of the tray in an even coat of Mod Podge.
5. Lay your decorative paper down. (It is easier to start from one side and press/smooth as you go, rather than drop the entire piece down at one time.)
6. Add a second layer of Mod Podge over the paper.
7. (Optional) Lay embellishments like monogram letters or strips of different paper (like the lime green pieces in the photo) down on the tray.
8. Apply one to two more layers of Mod Podge.
9. Let everything dry and you're done!
For the full photo tutorial, visit Prudent Baby. And, be sure to check out the other great crafts in our Craft Of The Day slideshow below.