After weeks of speculation, we've got our Sports Illustrated Swimsuit Issue covergirl: Kate Upton!
Upton, a blonde Midwesterner, was a rumored favorite for the cover, which has a history of launching swimsuit models to superstardom (Brooklyn Decker, anyone?).
The cover shot, which has been leaked today but will officially debut this evening on "The Late Show with David Letterman," shows Upton in a barely-there string bikini, doing our favorite "armpit pose."
It's a huge score for the Michigan native, previously the face of Guess Lingerie and a covergirl for Cosmopolitan Bride. The 19-year-old was rumored the favorite, Page Six previously reported, because of her "blond, all-American looks" (a clear shift from last year's cover girl, Russian beauty Irina Shayk).
Lest you wait till tonight's Letterman episode to see Upton in all her swimsuit-clad glory, TMZ has rustled up a leaked photo. Check it out below and stay tuned for a clearer image... and the rest of the 2012 Swimsuit models!
PHOTO: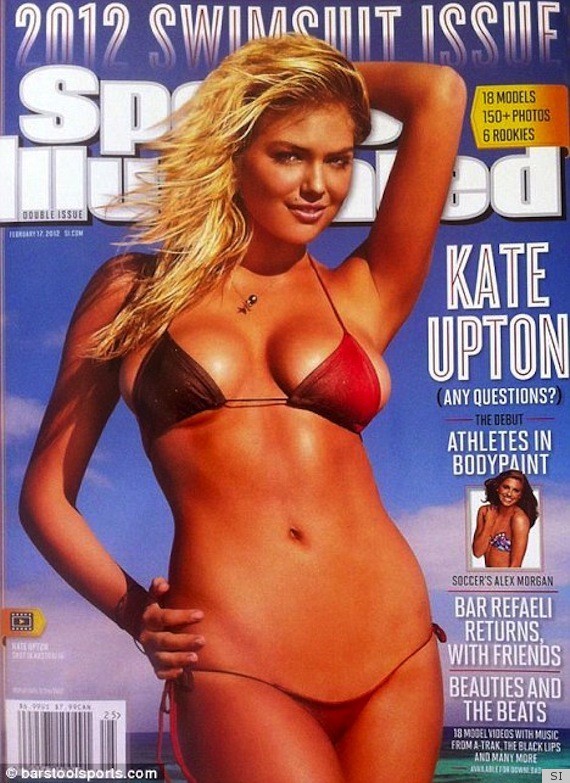 ALL-ALSO-ON-HUFFPOST
Check out decades of Sports Illustrated Swimsuit issue covers:
PHOTO GALLERY
BEFORE YOU GO
Sports Illustrated Swimsuit Covers Through The Years
PHOTO GALLERY
Sports Illustrated Swimsuit Covers Through The Years