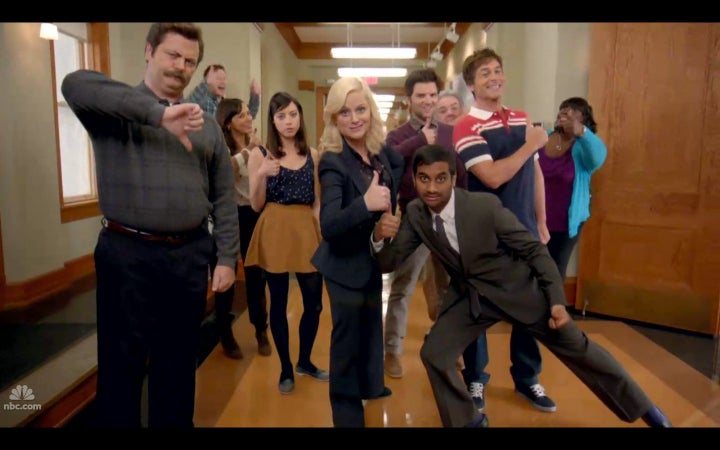 NBC assembled most of its stars for one giant Super Bowl commercial in a throwback to the ad stylings of the '80s.
Starting with a "TGS With Tracy Jordan" Super Bowl party, "30 Rock" MVPs Tina Fey and Alec Baldwin front the video as their characters Liz Lemon and Jack Donaghy. Of course, the fictional media boss kicks off the rendition of "How To Succeed In Business Without Really Trying's" "Brotherhood of Man" before handing the mic over to more NBC stars.
The attention soon shifts to the other NBC Thursday comedies with "The Office" cast, followed by Amy Poehler taking center stage with more faces from "Parks and Recreation" (look out for hilarious facial expressions from the supporting cast), and "Community." Yes, "Community"!
Of course, it wouldn't be a musical number on NBC without the cast of "Smash" and its stars Katharine McPhee and Megan Hilty lead the charge. Mariska Hargitay belts it out with the cast of "Law & Order: SVU" and virtually every other NBC star appears, even the teams from "Today" and "Saturday Night Live."
Watch the full video below!
BEFORE YOU GO