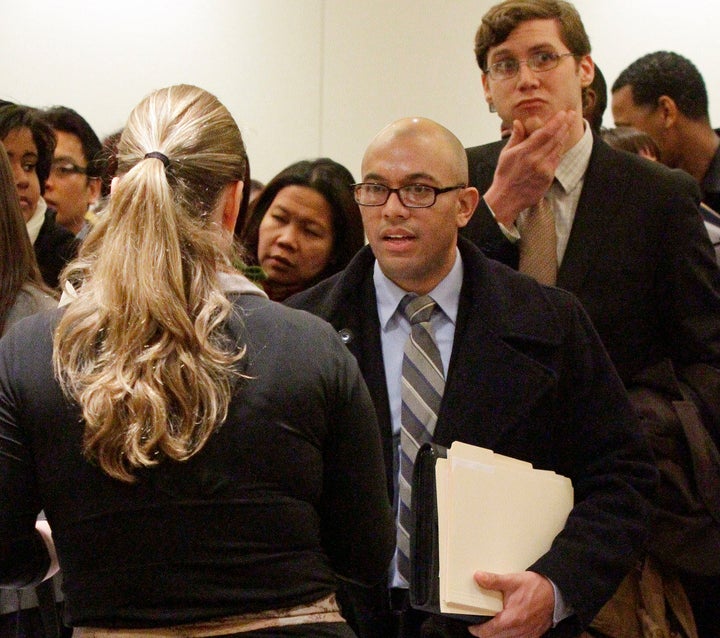 Nearly 30,000 people enduring long-term joblessness in Michigan are set to lose their unemployment insurance as a federal program that provides the final 20 weeks of benefits expires there.
The lapse of the Extended Benefits program in Michigan is a reminder that, even though Congress fully reauthorized federal unemployment insurance for two months in December, lawmakers sneakily shortened the duration of benefits. Legislators did not announce benefits would be changed, but according to its complex eligibility formula, Extended Benefits will expire over the course of the year in the rest of the 32 states where the program is in effect.
"This is the first wave of tens of thousands of laid-off workers losing their unemployment insurance unless the program is extended in Washington these next weeks in a sound and sensitive manner," Rep. Sander Levin (D-Mich.) said in a statement on Saturday. "If the federal extended benefit program is not fixed in the conference committee, close to 30 states will follow Michigan and lose access to this program in the first six months of 2012."
States are eligible for Extended Benefits if their jobless rates are high and rising compared with a corresponding period over the previous three years. Since Michigan's rate is steadily declining -- it fell from 11.1 percent at the end of 2010 to 9.3 percent in December -- the state is "triggering off" the program. But even if the rate hadn't fallen at all, unless it's at least 10 percent higher than it was three years ago, the state would still lose Extended Benefits.
Levin said he advocated for Congress to change the "look back" period for evaluating state eligibility to four years -- at the end of 2010 Congress lengthened it from just two years -- but other top Democrats in the House and Senate said they had to give ground for Republicans to sign on to approving even a short-term extension in December.
"We couldn't get it done otherwise," Senate Majority Leader Harry Reid (D-Nev.) said at the time.
"There are things in this bill as we pointed out that we had to make concessions on," House Minority Whip Steny Hoyer (D-Md.) said then.
The December deal marked the beginning of the end of 99 weeks of combined state and federal unemployment insurance. As the Extended Benefits program expires in one state after another over the course of the year, the total duration of unemployment insurance will drop to 79 weeks. (Michigan's maximum duration will be even shorter because last year state Republicans cut state benefits from 26 weeks to 20.)
As congressional Republicans are fond of pointing out, the Obama administration first proposed phasing out Extended Benefits this year. In legislation that passed the House, Republicans would have gone further by cutting another 20 weeks from the 53-week Emergency Unemployment Compensation program, reducing the total duration of benefits to 59 weeks.
Both federal unemployment programs will expire at the end of the month. Lawmakers are currently negotiating a deal to reauthorize the benefits as part of a bigger package that includes a 2-percent reduction in the Social Security payroll tax on workers, which is also expiring.
Emergency Unemployment Compensation aided 3 million workers during the week ending Jan. 14, according to the latest from Labor Department, while 474,252 received Extended Benefits.
The next states to lose Extended Benefits eligibility will be Massachusetts, Missouri, Ohio, Oregon, South Carolina and Tennessee, according to an analysis by the National Employment Law Project, a worker advocacy group. In those states the program will stop in April.
BEFORE YOU GO