I am perhaps the last person on earth to see Terrence Malick's brilliant film, "Badlands," but after watching it this weekend I feel in a word, changed. From the haunting, yet uplifting theme song to the rural, windswept backdrop to Martin Sheen and Sissy Spacek's performances, there is a sense of nostalgia and simpler times that I found truly captivating. Set in 1959 in South Dakota and Montana, then later throughout the midwest and south, the movie follows Kit and Holly, a young couple in love who suddenly find themselves on the run after a string of murders.
Spacek, in one of her earlier films, plays a fifteen-year-old who acts much wiser than her years. There is an earnest, wholesomeness to Holly, which is only enhanced by her bare-faced beauty. She is, however, fond of curling the ends of her hair. A nod to the character's (and Spacek's) homestate, Texas. This week we're channeling the wide-eyed Holly, whose look reminds us of the pared-down makeup and shiny, healthy hair we saw backstage at Chloé this past spring.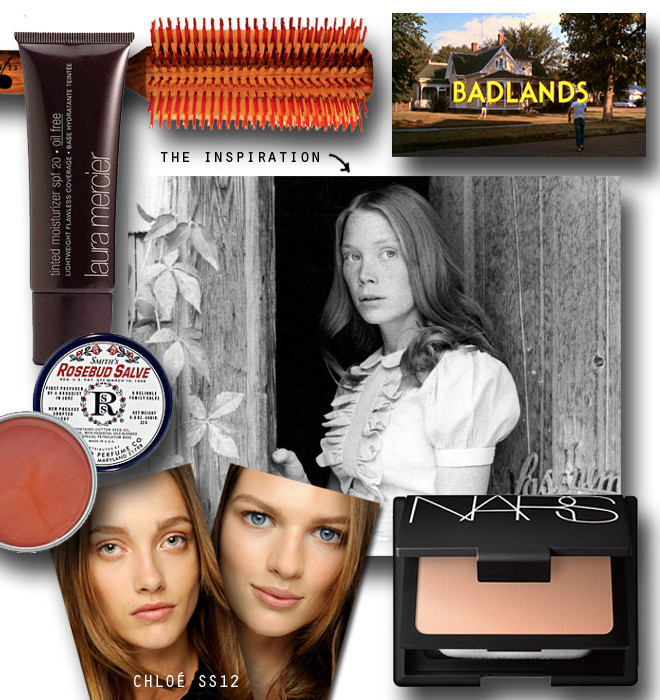 GoRunway; Getty
Where to buy:
NARS Powder Foundation, $45, narscosmetics.com
Y.S. Park Curl Shine Styler Brush, $60, staysharpshears.com
Laura Mercier Tinted Moisturizer, $42, bloomingdales.com
Smith's Rosebud Lip Salve, $6, sephora.com
Take a look back at our other favorite Unexpected Icons.
BEAUTY RELATED LINKS YOU MAY LOVE:

February's Brightest And Best Nail Polish Colors - BellaSugar

Beauty Test Drive: L'Oreal EverCreme Cleansing Conditioner - The Frisky

The Top 7 Fashion Week Beauty Essentials - Allure

One Woman's Quest For The Perfect Smile - Elle

10 Ways To Instantly Look Sexy - Daily Makeover