The question might not be if an insanely tall solar updraft tower gets built, but whose insanely tall solar updraft tower gets built first. And where.
EnviroMission, the Australian company aiming to use the greenhouse effect and thermal dynamics to produce electricity in the Arizona desert, is apparently not alone in its ambition. Turns out another Australian concern is working to build a very similar power plant. The second team's project is targeted for the outback of Western Australia, where a key function would be to provide power to the extensive mining industry in the area.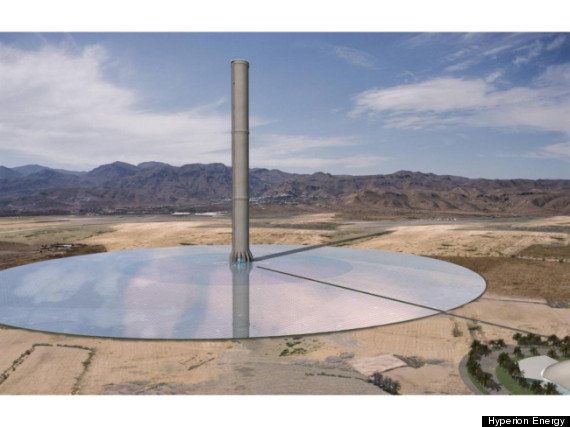 Both projects plan to use a vast canopy to trap and heat air that would have nowhere to go but up through a tower at the center of the canopy. Thirty-two turbines would capture the energy of the air as it is sucked into the tower, producing up to 200 megawatts of power.
In a promotional video, Hyperion says "Schalich Bergermann will design the project, supervise the construction and equipment installation and then commision the operation to guarantee the tower's performance."
EnviroMission has a history with Schalich Bergermann, too. EnviroMission's executive director, Roger Davey, told Perth Now his company "acquired its initial engineering from Schlaich Bergermann, but spent 10 years refining the design to convince skeptical governments and financiers the idea made commercial sense."
Having failed to get the support it needed in Australia, EnviroMission set its sights on the U.S. In October 2010 it secured a power purchase agreement with the Southern California Public Power Authority. Last month, the company announced it had "received a formal commitment to provide the entire development and construction capital" from an unnamed financier, and was hopeful of moving ahead soon, subject to due diligence.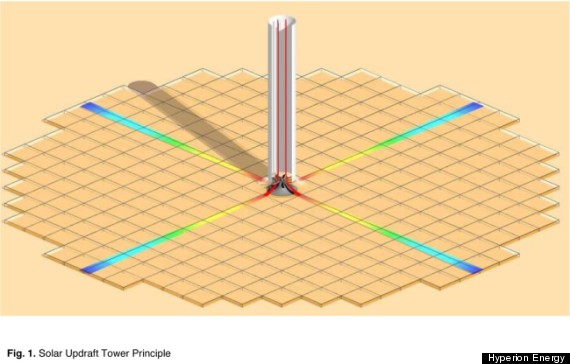 Back in Australia, Hyperion says it has purchased a 490-square-mile site about 430 miles up the Great Northern Highway from Perth. The site has all the attributes for a successful solar updraft tower, according to Hyperion: a great swath of flat land; copious amounts of solar radiation; low risk of earthquakes or cyclones; and proximity to major mines and transportation routes.
A bit of a wild card in the Hyperion project is the role of Dallas Dempster in the partnership driving the project. The Perth Now describe the 70-year-old Dempster as a "failed entrepreneur" who went bankrupt in 1997 in the aftermath of what's known Down Under as WA Inc, a business and political scandal that led to two Western Australian premiers going to prison.
BEFORE YOU GO