There are at least 10 reasons to be extremely excited for "Seeking a Friend for the End of the World," the upcoming disaster-themed romantic dramedy scheduled for release this June. It stars Steve Carell and Keira Knightley, features a supporting cast comprised of Patton Oswalt, Connie Britton, Adam Brody, Gillian Jacobs, Rob Corddry and Melanie Lynskey (you love them!), and is written and directed by Lorene Scarfaria, the Fempire member behind "Nick and Norah's Infinite Playlist." Then there's the plot, which sounds like "Melancholia" by way of Judd Apatow: as an asteroid heads toward Earth, a recently-dumped man (Carell) goes looking for his high school sweetheart with his young neighbor (Knightley) in tow.
"[E]ven though it's about the end of the world, it's weirdly one of the most optimistic films I've ever been a part of," Knightley told Moviefone earlier this year. "It's a life-affirming piece. That's the thing, you make films about the end, and what they become about is what's important in life, and therefore they become about life itself as opposed to death, which is quite interesting. Hopefully, it's an optimistic one."
Sounds great! If only the poster made it look like that movie, instead of the latest in a long line of films focusing on bummed dudes being saved by Manic Pixie Dream Girls. To wit:
1. Knightley's "quirky" hair.
2. And is she wearing a pink sun dress?
3. With a military jacket?
4. Also, she's holding vinyl records.
5. Of course she has a pair of Converse.
6. Meanwhile, Carell is dressed like a dork.
7. With a cute dog.
8. And a sad-sack look on his face.
9. He probably likes the "Garden State" soundtrack.
"Seeking a Friend for the End of the World," which should still be awesome -- but could use a new poster -- arrives in theaters on June 22.
PHOTO: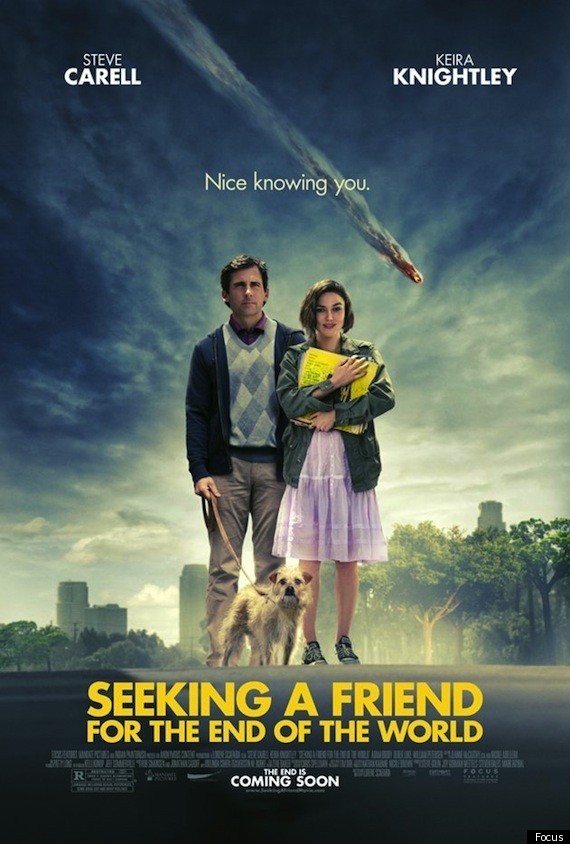 [via Yahoo!]
BEFORE YOU GO