The recently-released four draft versions of new City Council districts have drawn plenty of criticism and concern from residents who fear they might be drawn out of traditional neighborhoods or lose representation to more powerful interests. But a new, unofficial map has some demanding the city consider a fifth option.
Detroit's new City Charter mandates seven of nine Council members be elected by districts, and city officials are pushing to adopt a new district map by Feb. 17, in order to give voters and potential candidates time to adjust before the 2013 Council races.
At Tuesday's public meeting in Corktown to discuss the maps, dozens of residents stood up and announced their support for a map titled 'Option 5', produced by Data Driven Detroit.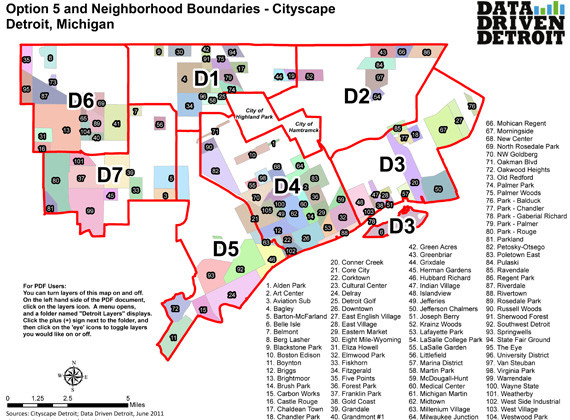 The think tank took census data and its own understanding of Detroit neighborhoods to come up with a different district map. Many residents, and even Council President Pro Tem Gary Brown, seem to think D3's map might be better than the four official options.
Brown's office has found some 70 percent of citizens prefer D3's map when it's on the table, according to spokesman Bryan Peckinpaugh. That's reason enough for the Council member to push for the map's consideration.
"If it can be done with least amount of cost and least amount of time, [Brown] would like to, because most citizens he's encountered want that map; that's the one they choose," Peckinpaugh said.
At Tuesday's meeting, City Council's planning department Director Marcel Todd said his office has been instructed to look over D3's map and see how it might be made to fit Detroit's already-drawn voting precinct boundaries. City Council expects to know before Monday whether reconciling the D3 map with other guidelines is possible.
See D3's website for an overlay of the five district map options.
So why was a fifth option necessary? Data Driven Detroit's Kurt Metzger spoke with HuffPost via phone about his organization's approach to creating districts and the potential he sees for citizen engagement in the city.
What motivated D3 to make its own 'Option 5' City Council district map?
Really our critique was that two of the [City Planning Department] maps split downtown, and we felt that wasn't really the way we wanted to go. We wanted to hold downtown whole and we didn't want downtown to compete against neighborhoods.
We feel very strongly Detroit is a city of neighborhoods. So a number of us sat around and decided that there is a better option. We started thinking about how we could draw districts that honored neighborhood boundaries. We pulled all our layers on neighborhoods and other things and began to draw. What we wanted to do was come up with a version that honors neighborhood boundaries and kind of put it out there.
Data Driven Detroit is really geared toward pushing communities and neighborhoods to advocate for themselves -- this whole issue of how you get citizens engaged around data. These four [official] plans come from on high. Why should you have to pick one of those four? Who drew these? Why are these the magic four? It's more to say, okay, folks you can get engaged and come out and start to ask questions and put out your own version.
What are all these blank spots on the map? Are those areas not considered neighborhoods?
We used Cityscape -- a group that tried to create this neighborhood map -- and we've been trying to push the neighborhood map out into the community to get people to fill in those blanks.
We haven't had much luck, but we've been working with community development organizations and others that are getting down to individual neighborhoods. In all our research, we found a number of areas in the city that just cannot find any record of a specific neighborhood name associated with it.
We're also using it as a way to say, please tell us, do these boundaries make sense? Are there areas of city that we have not identified? Please tell us! We'd like to fill this map in as much as possible.
Your map puts downtown and midtown together in a single district. Do you think there's any validity to concerns that a Woodward corridor district might pull some power away from the neighborhoods?
I really don't understand what that means. It's still represented by just one person, right? You've got six other districts.
I think what it does is provide more power to neighborhoods. If you split downtown -- you could split in two or three ways -- all off a sudden two or three representatives are focused on downtown, maybe to the exclusion of the neighborhoods tied to them.
Now say you've got one person representing downtown and midtown. There may be more money there, but that doesn't give that person more power as far as I'm concerned.
I thought it would be really problematic for Dan Gilbert, when he buys his next building, to have to talk to different people. Depending on which side of Woodward or of Brush, he's talking to one representative then talking to someone else? All of greater downtown is so closely tied.
Does Option 5 meet the criteria laid out by state and federal law?
Yes. The only issue is we used census blocks as opposed to election precincts. Their precincts have to honor all the various lines -- state House, state Senate, congressional, fire commissioner, police commissioner -- so they have to tweak around these kinds of things. But I think we can probably meet the necessity of those, and we're going to try to pursue that.
City Council staffers have said their reviewing the Option 5 map. How likely do you think it is they'll be able to take it under official consideration?
We did talk. I sent a note to [Council President Pro Tem] Gary Brown and explained my point of view. He called the office and asked what it would take to utilize our boundaries -- our present plan -- but tie it to election precincts. We're getting the feeling they are actually considering this as an option.
Are you surprised by public support for the map?
Yes! Surprised, certainly, and probably more gratified. Not just necessarily by the support for map, but the fact that this map all of a sudden has brought not only Data Driven Detroit to the foreground, but it's actually energizing folks on the ground -- not just the typical players, the community development people doing this all the time, but actually citizens -- to get up and start questioning authority by saying, wait a second, we see other options!
All of a sudden it's being mentioned in public meetings, on the news. People are seeking information and questioning authority. For me, that's what I'm all about. I want good data and I want accurate information, and we're very clear about that, but I also want information to inform neighborhood decisions. Not just top-down, telling people, "This is the way it is." We want to arm everybody with same kind of information so there's' somewhat of a level playing field. It's been cool.