When it comes time to set up your fabulous Valentine's Day dinner, be sure to include this Craft Of The Day. Place cards don't get a lot of love in our regular entertaining mix, but tonight's festivities are a good reason to bring them out. They really turn even take-out (we won't judge) into an event. Want to get the look? Keep on reading for the easy how-to.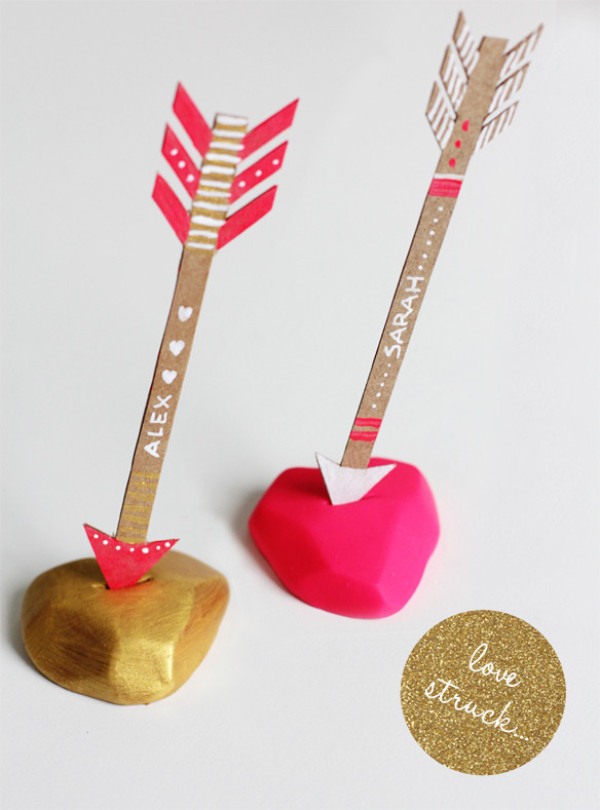 Photo by Claire Dalgliesh of Fellow Fellow
What You'll Need
Medium-weight cardboard
Scissors
Glue
Paint/glitter/markers
Modeling clay (oven bake)
How To Make It
1. Cut arrows out of cardboard. (Optional: You can use this template.)
2. Personalize or decorate arrows.
3. Mold a small heart out of the clay.
4. Push the tip of the arrow into clay until you're satisfied with the angle.
5. Take the arrow out and bake the clay according the brand's instructions.
6. When cooled, insert arrow.
7. (Optional) Paint the heart.
For a full tutorial, visit Fellow Fellow. And, be sure to check out the other great crafts in our Craft Of The Day slideshow below.