Every week, a new Jennifer Aniston rumor seems to pop up in the tabloids, with headlines blaring that she's "Back With Brad!" or "Pregnant -- With Twins!" But don't think all those stories are lost on the "Wanderlust" actress, who covers the March 2012 issue of GQ with Paul Rudd.
"I'm still trying really hard to be friends with it," Aniston said of dealing with her fame's magnitude. "It's just a weird time, I think. The tabloids, instead of being about alien babies and stuff, it's my triplets, quadruplets, marriages, feuds..."
The actress, 43, has dominated the tabloid covers, as the subject of weekly pregnancy rumors, but she set the record straight during the interview.
"I'm not having triplets," she said. "Not having twins. Nor am I having one baby. [lifts up sweater and gestures to belly; it appears flat] I did not elope."
She attributes the "baby bump" rumors to her decision to quit smoking last year, which caused her to put on a few pounds, and joked that she'll be the actress who cried "baby" one day.
"The one time I do say, 'Yes! I'm pregnant!' they'll be like, 'Pfft. Right,'" she said.
Her romance with her "Wanderlust" co-star Justin Theroux likely helped fuel the "Baby For Jen!" headlines, and Aniston dished on her low-key relationship.
"It's a growing, literally living thing," she said. "There's going to be growing pains, there's going to be awkward moments -- your lanky phase, your pimpled phase. I think that's the beauty of a relationship. But if the road starts to [diverge] and one person is growing this way and the other is growing that way... Sometimes that can happen and you can stay together, and sometimes you can't."
If there's one thing Aniston knows, it's how to deal with a breakup in the spotlight -- and she's not afraid to say she's tired of the never-ending rumors putting her in a love triangle with her ex-husband, Brad Pitt, and his partner, Angelina Jolie.
"I would say the triangle with my ex-husband -- and that there's a feud there," Aniston recently told InStyle about which rumor she's sick of hearing. "It's constant. It's a story headline that won't go away, but it's a money thing -- [people make money off] a story that has nothing to do with reality."
For more, pick up a copy of GQ, on newsstands February 21, and head over to GQ for photos of Aniston and Rudd.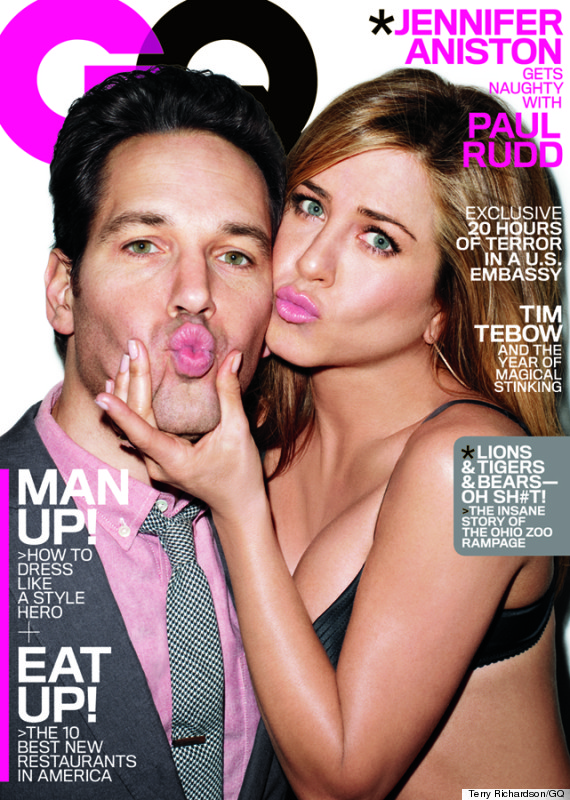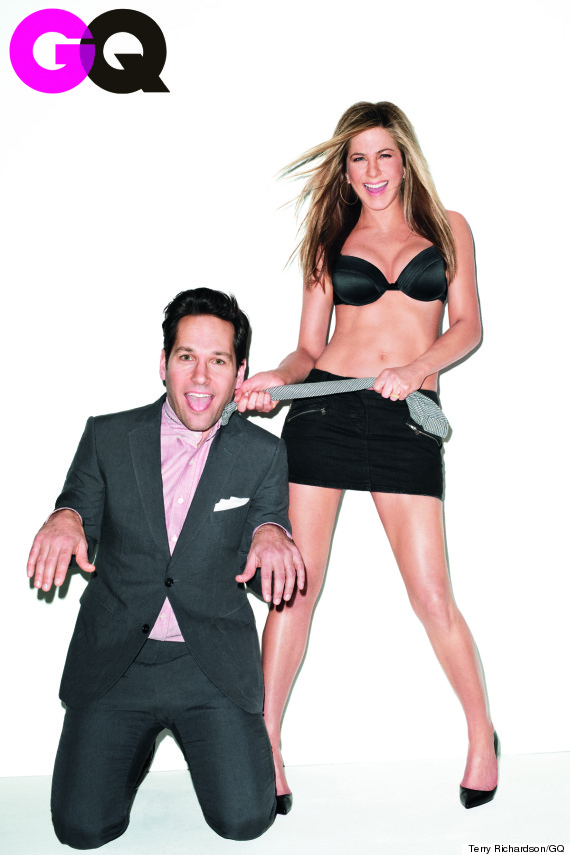 BEFORE YOU GO