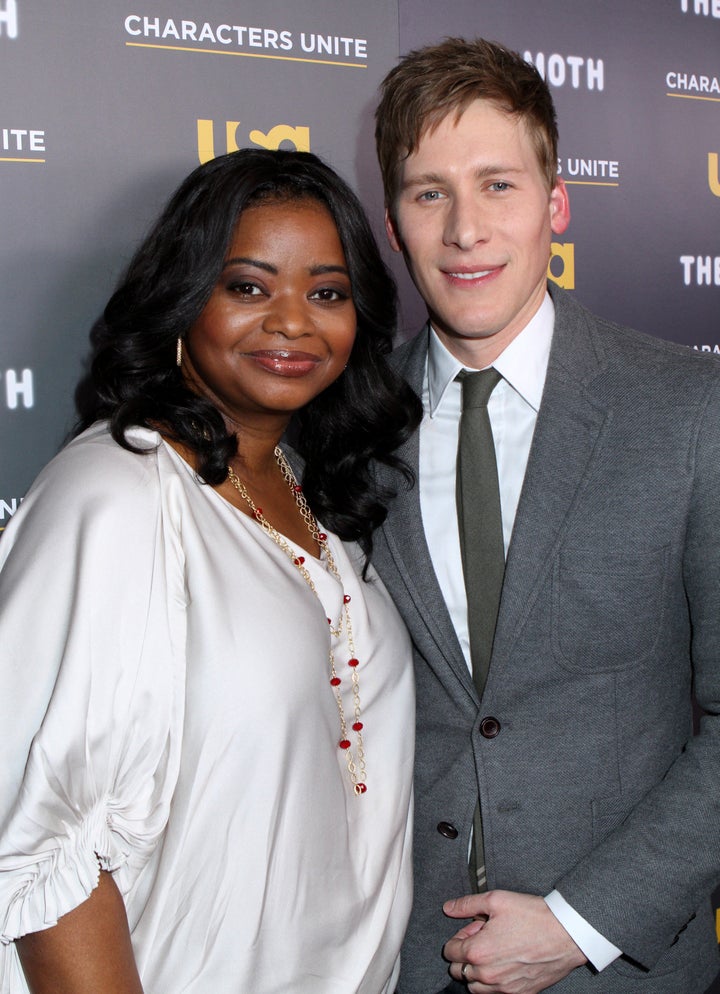 Stories are often told in Los Angeles. They range from you'll-never-guess-who-I-saw-at-Urth to the variety of comedies, dramas and fantasies that we see on the silver screen in the form of film. But the art of spoken storytelling has long been lost in our modern era of posts, tags and Tweets. The good news is that is all about to change, thanks to The Moth.

The Pacific Design Center in West Hollywood (lovingly referred to as the big blue whale) was abuzz Wednesday night at USA Network & The Moth's Characters Unite Storytelling Event. The evening was the brainchild of USA and The Moth -- the widely-acclaimed nonprofit organization dedicated to the art and craft of storytelling. The Wall Street Journal has dubbed it "New York's hottest and hippest literary ticket."

The evening featured five storytellers, including Academy Award winner Dustin Lance Black ("Milk") and Academy Award hopeful Octavia Spencer ("The Help"). Each storyteller had ten minutes to tell their story aloud, in front of the live room, and with absolutely no notes. All of the stories had to follow the theme of a personal experience of facing discrimination or bigotry.

Host Nathan Lane – the ultimate character – welcomed the audience by explaining why he was there: "As an actor with a pilot in contention at the USA Network, I figured it couldn't hurt. I just want to get picked up. Story of my life."

When going over the rules for the evening, Lane insisted, "No flash photography allowed and, actually, no flashing of any kind – I know it's West Hollywood – but please try to contain yourselves. But if Michael Fassbender is here, flash away." He continued to play to the LA crowd with: "There will be no drinking, eating, sleeping, heavy petting; no botoxing, laser hair removal or anal bleaching of any kind. I have seen it happen. This is LA, you've got be really specific."

The first story was told by Tim King, founder of Urban Prep Academies in Chicago. As he told it, he was supposed to be the first black president of the United States -- Obama stole his thunder. Instead, his life was changed drastically when, as a teacher, he was forced to step into a difficult situation with a student. That student later became his son.

Story two was told by athlete, model, actor and activist Aimee Mullins. Mullins had her legs amputated below the knee as a child and went on to achieve massive success in the worlds of track and field, design and the runway. She spoke about becoming a top designer for prosthetics and how hard having a prosthetic leg was as a little girl.

The third story was told by acclaimed solo performer Greg Walloch. His hilarious tales of his love of cake, a friend getting dumped by a gay Elvis impersonator and finding himself on stage at an evangelical church in the South all came full circle as he concluded with what matters most in life.

After the intermission, screenwriter Dustin Lance Black took the stage for the most intimate story of the evening. His story started with coming out as gay to his homophobic, Mormon mother and ended with realizing, years later, that his brother was also gay but stuck in a much less accepting society. "Of course, I felt liberation when I came out. I came out in California. He came out in Texas. No one's coming out in his world," he said.

Black, referring to his involvement with the most recent Prop 8 ruling in California, said, "The first thing I wanted to do was run to the phone and say 'Hey bro, we did it. There's one more step until we have full equality, until we get to the U.S. Supreme Court and my win is your win. And you can feel like I did when I came out.' I wanted to make that phone call. But two weeks before, my big brother lost his fight with addiction. And he died. And he will never know that feeling of hope that I felt; he will never know that liberation that I felt. It's not just some idea. It's not just some ideal. This is for my big brother. And for all the people out there tonight who are like my big brother, so that they can love while they still have their lives to live."
The final story of the evening was told by actor Octavia Spencer. Before the show, she told HuffPost, "I haven't really experienced racism that I can clearly identify, so my story is different. It's about empowerment and what my experience on 'The Help' was like for me personally." Spencer, a self-proclaimed baby when it comes to enduring any kind of physical pain (she laughed, "a headache can put me out for many hours"), struggled with how to get into the domestic abuse scenes that her character Minnie goes through.
Spencer struggled with understanding why a woman would stay in an abusive relationship: "I had to reconcile how I was going to play this character...because I was judging her." The day arrived when it was time to shoot the most violent scene and Spencer coasted through it. She was relieved. But then the director called for a second shot and they started again. This time, out of nowhere, people from the crew started chucking canned goods at her, hard and fast. The fear she felt was extreme. Later the night, Spencer revealed that it dawned on her. If she could experience that kind of terror in the few minutes it took to shoot that scene, she was only beginning to get a glimpse into what life would be like when living in that kind of fear constantly.
Nathan Lane rounded the evening off and reminded guests that while many other A-listers were across town at President Barack Obama's fundraising dinner in the Holmby Hills, we got to be at the Pacific Design Center. He quipped, "They have the Foo Fighters, we have John Legend. They have Obama, we have Octavia."
And he was right. After the storytelling event concluded, guests were ushered into another wing of the Pacific Design Center for a private concert with nine-time Grammy Award winner and philanthropist John Legend.
Check back soon for more information about The Moth in Los Angeles. It was announced on Wednesday that LA will be the first city outside of New York to get permanent and consistent Moth shows.
BROWSE PHOTOS FROM THE EVENING: