An old t-shirt will never look better than when used in this Craft Of The Day. In just a few minutes, those destined-for-the-rag-heap tees become unique napkin rings. Seriously, it's super-easy. Keep reading for the how-to.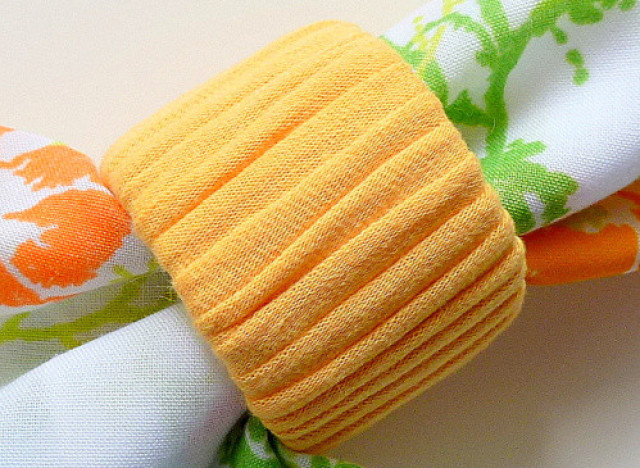 Photo by Ashley Pahl of Indie Pretty Projects
What You'll Need
Fabric glue
Paint brush
Toilet paper roll
Scissors
Old t-shirt
How To Make It
1. Cut long horizontal 1.5-inch-wide strips from a t-shirt.
2. Cut the paper roll to your desired width of a napkin holder.
3. Glue one end of a strip to the inside of the roll. The rolled edges should face inward.
4. Wrap the strip around the roll, slightly overlapping the previous wrap. (Tip: Keep the space between each wrap at even distance for a crisper look.)
5. Tuck the end of the last strip into the second to last pleat.
6. Glue down pleat.
For a full tutorial, visit Indie Pretty Projects. And, be sure to check out the other great crafts in our Craft Of The Day slideshow below.
PHOTO GALLERY
Craft Of The Day