Meet Jens.
Jens is an odd guy (though supposedly very handsome.) He has some unusual needs and finds himself in absurd situations, and often he reaches out to the community at large for help. Whether inviting you to get rid of that bitter taste in your mouth or to tape the latest episode of "Happy Days," Jens' pleas for connection seem oddly genuine.
Public art meets private jokes with these hilarious, fabricated "wanted" posters. The masterminds behind the street posters are Jody Barton and Luke Pommersheim. Their pranks are more like little gifts, crafting bizarre scenarios that reveal the odd needs and desires inside of all of us. Sometimes we create projects to make our friends and random passersby laugh. We asked Jody a few questions about Jens' hilarious street signs.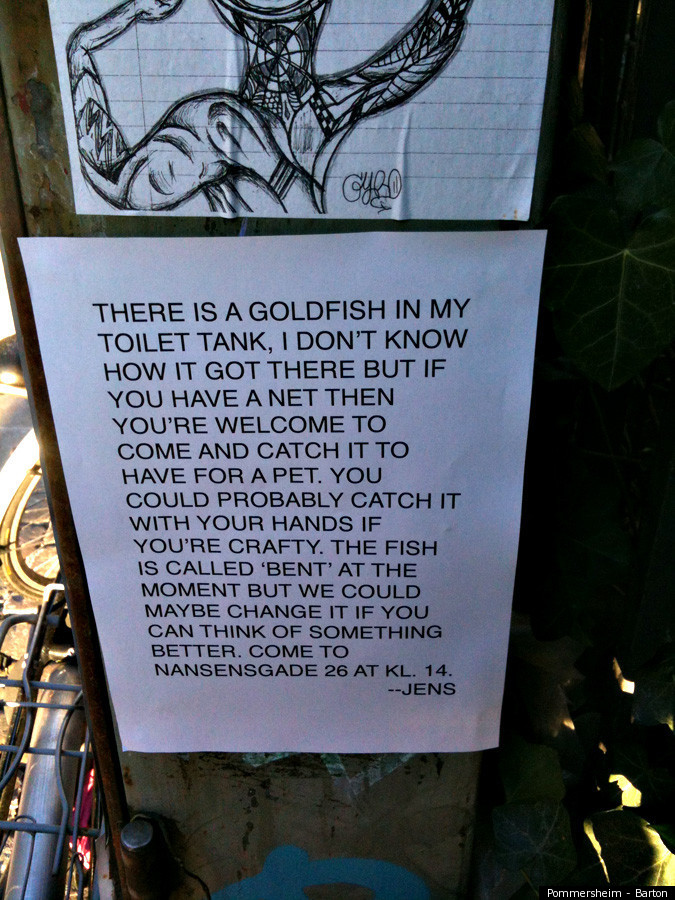 HP: What inspired your street poster project?

JB: We saw this thing on the web with posters from an imaginary guy called Chris. We are stuck in Copenhagen trying to entertain ourselves so we thought we'd do a similar project... just seemed fun.
HP: Do you often get responses?

JB: Well, the address is a coffee shop we sometimes go to, so we thought we'd just wait and see if anyone came in for Jens, but so far, nothing... Could happen I suppose... still going to drink coffee!
Jens is a very handsome imaginary guy, but he does have some issues. There's a perfect match out there somewhere for every one of his rather un-hinged projects though we're sure.
HP: You mix the roles of artist and prankster. Do you think art is often taken too seriously?

JB: Well, even prankster art is part of a pretty well-worn trajectory toward the traditional gallery. The path may have an ethical flavour like OBEY, but it's still there. We just did it for fun. Just to make ourselves laugh and to fight over the ideas. Collaboration is a very fun thing. We had no idea that it would get any real press attention. It's 'not for sale' either -- although I don't know how you could sell it.
HP: Were you at all concerned with hiding your identities? Keeping them authentic looking? Or were you always open about them being fake ads?
JB: I think pretty much anyone would know they were fake -- that's part of the joy I think. If they were a genuine attempt to deceive then it would be less charitable. I think each poster is like a little absurd story. You enjoy thinking about this silly man called Jens and his bizarre needs from the world. They are public short stories. It's not very confrontational -- I think it's pretty cozy really.
HP: What is a work of art that inspires you?

JB: Oh, I think we both like anything that breaks the convention of seriousness or undermines the notion that creativity has to be serious or for financial gain. And going back in art history a little bit then I guess Situationists and someone like Piero Manzoni -- he's the man who sold his own poop in a can and made a pedestal with the whole world sitting on it. Just not taking it too seriously really. Larry Graham is my style icon.
HP: Is there anything else you'd like to add? Fun fact or life goal?

JB: It's f-ing freezing trying to stick up posters in -10C.
Life goal? More dandyish time wasting... Coffee and boulevards, maybe the occasional velvet cape on Sundays.
At this point, you really should check out some examples below:
PHOTO GALLERY
Jody and Luke