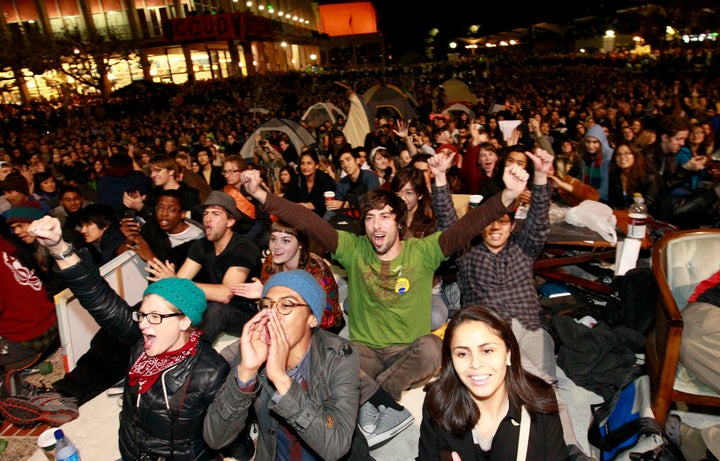 NEW YORK -- Newly released emails show University of California, Berkeley officials did not initially object to the use of batons on nonviolent protesters during a November 2011 demonstration that ignited a national outrage.
Chancellor Robert Bigeneau not only knew batons were used against Occupy Cal protesters, but he encouraged officials "do not back down."
Birgeneau said at the time he was in "limited contact" with administration officials when students began an Occupy Cal protest at the UC Berkley campus on Nov. 9, 2011, while he was in Asia. Campus police were caught on video striking protesters who had linked arms and were standing still.
Emails sent to and from Birgeneau's account, obtained through a Freedom of Information request by the American Civil Liberties Union of Northern California and shared with The Huffington Post, show Birgeneau was told that campus police had used batons, and that he did not call for a more passive approach in enforcing a "no encampments" policy.
Provost George Breslauer wrote to Birgeneau after the first round of baton blows from campus police: "Protestors locked arms to prevent police from getting to the tents. Police used batons to gain access to the tents." Breslauer told him hundreds of students and a number of reporters were present, and that he expected the protest would carry on for days.
"This is really unfortunate," Birgeneau wrote back using his BlackBerry. "However, our policies are absolutely clear. Obviously this group wanted exactly such a confrontation."
A short time later, Birgeneau wrote Breslauer again to say, "It is critical that we do not back down on our no encampment policy." Birgeneau then referenced the situation in which Oakland Mayor Jean Quan found herself consequent to her handling of Occupy Oakland, where protesters established a camp for a short time, then were kicked out.
Some UC students suffered injuries such as cracked ribs. A tenured UC English professor reported that police yanked her to the ground by her hair. The video sparked controversy, lawsuits, an online petition by instructors and faculty expressing "no confidence" in the administration, and multiple investigations.
Linda Lye, an attorney with the ACLU of Northern California, told HuffPost that the emails reveal it wasn't just a couple of "bad apples" on the police force.
"What this shows is [Birgeneau] was also responsible, in the additional sense of creating the environment," Lye said. "He set the tone, gave the directive ... This is a larger systemic problem."
On Nov. 28, 2011, Birgeneau told faculty at a meeting that he explicitly prohibited police from using tear gas or pepper spray, but that "unfortunately, we did not at the same time discuss the use of the baton."
UC Berkeley campus spokesperson Dan Mogulof said the emails didn't indicate what was authorized, but did tell HuffPost that "any authorization comes beforehand."
"His comments [in the emails] were neither an authorization for or a prohibition against future use," Mogulof said. "The policy itself [of no encampments] still stood without any entry into discussion of tactics."
Mogulof said "the track record since November is evidence" of how the administration has improved its handling of protests and of the chancellor's commitment to avoiding another clash.
Mogulof also said Birgeneau did offer an unqualified apology at the time, and the administration doesn't see any inconsistency between the emails and officials' public statements.
However, not everyone on campus is satisfied.
"No one believed Birgeneau at the time," insisted Wendy Brown, a UC Berkeley political science professor. "They have Internet, Skype and excellent cellphone connections in Asia. And chancellors are never out of contact with their other campus officers merely because they're on the road. The lameness of this claim only infuriated people more last November."
Full Text Of Emails Obtained By The ACLU of Northern California:

From: "George Breslauer"
Date: Wed, 9 Nov 2011 16:28:52 -0800
To: [redacted]
Cc: Linda Williams; Claire Holmes
Subject:

Bob, Just back from Sproul Plaza, where about 300-400 people tried to set up an encampment on the lawn off the northwest side of Sproul Hall. After assessing the situation, the police moved in to remove the tents, enforcing campus policy of "no encampments." Protestors locked arms to prevent police from getting to the tents. Police used batons to gain access to the tents. There are still 200-300 people gathered, watching, and, in some cases, screaming at the police., who have established a perimeter. Harry and Gibor, perhaps also Linda, are speaking to the Graduate Assembly in Anthony Hall. Helicopters and reporters are around. This is likely to continue for days, I suspect. I don't know yet whether there have been arrests. George

George W. Breslauer
Professor of Political Science

--

From: "Robert J. Birgeneau"
Date: Thu, 10 Nov 2011 01:19:11 +0000
To: George Breslauer
ReplyTo: [redacted]
Cc: Linda Williams; Claire Holmes
Subject: Re:

This is really unfortunate. However, our policies are absolutely clear. Obviously this group wanted exactly such a confrontation.

Bob
Sent via BlackBerry

--

From: Robert J. Birgeneau
To: George Breslauer
Cc: Linda Williams; Claire Holmes; Beata Fitzpatrick; Harry Le Grande
Subject: Re:
Date: Wednesday, November 09, 2011 5:36:18 PM

George
It is critical that we do not back down on our no encampment policy. Otherwise, we will end up in Quan land.

Bob
Sent via BlackBerry
BEFORE YOU GO