It's not often you get to see a famous royal spilling her secrets in a personal interview. (Most covers of the Duchess of Cambridge, for example, are of the severely-Photoshopped stock photo variety and just use canned quotes from other sources)
So we're surprised (and thrilled!) to see Princess Mary, an Australian who became Danish royalty upon marrying Prince Frederik, on the cover of The Australian Women's Weekly in a pretty silk blouse and talking to the magazine about the inner workings of her life.
Mary is one of our favorite royals to study sartorially, partly due to her penchant for not being afraid to drape herself in tons of old-school jewels and medals and other royal regalia (even when being ogled by Finland's first husband), and for wearing gorgeous gowns like this one.
But in the interview, we get to see a different side of the princess beyond her stately appearance. Princess Mary opens up about the "strain" of having four children (Christian, 6; Isabella, 4, and one-year-old twins Vincent and Josephine), saying:
"It is the most enjoyable time in your life because you are so absorbed in your own little bubble with your small, innocent children," she says. "They are just like God delivered them."
All together now: awwwww.
And for us, Mary's cover begs the question: will Kate Middleton ever pose for a cover and an interview? Obviously, we'd like her to, because we're, um, obsessed with her every move.
But we suspect that due to Kate and Wills' private nature, it'll be awhile before Kate spills about her wedding and life with the in-laws in a glossy.
Click over to AWW to read more of Princess Mary's interview, and check out her lovely cover below.
CORRECTION: A previous version of this post stated that Princess Mary had posed for the cover; the photo is actually one released by the Danish royal house. When will anyone actually pose? We're waiting!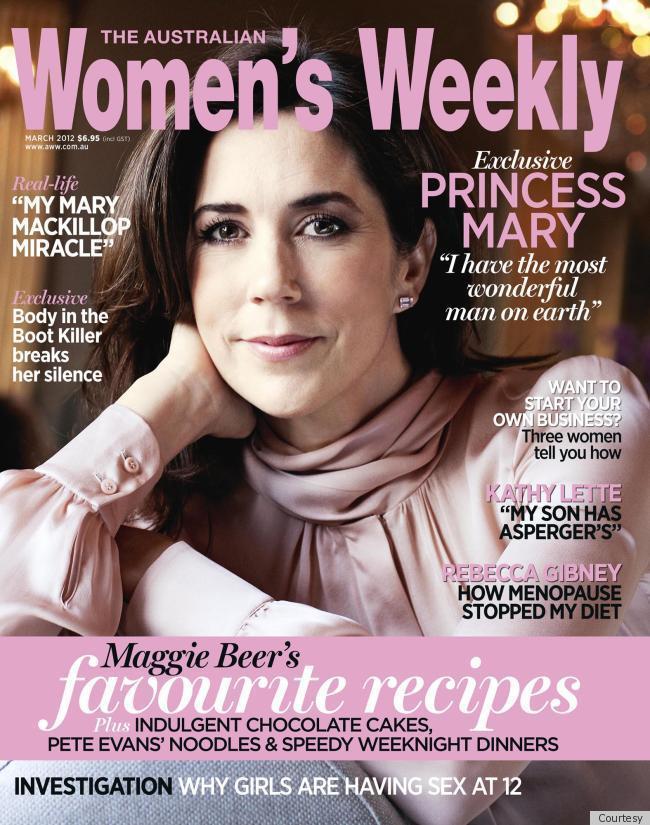 BEFORE YOU GO