Remember the announcement that Kraftwerk were going to do an 8 night stint at the Museum of Modern Art? And how excited everyone was?
Well, unsurprisingly, no human beings we know of got tickets. Almost appropriately, passes for the cyber-obsessed band's first gig in New York since 2005 were gobbled up by robots--scalper robots, that is.
MoMA used ShowClix to pawn off the tickets and area Kraftwerk fans found themselves waiting for an hour in an online queue only to be told Nein, no German electronica-robot-pop for you! (Incredibly rich New Yorkers out there can know hope however-- you can always buy a ticket for $42,413. Chump change, really.)
Even MoMA employees felt the pain:
A lot of people are upset. And look at all these desperate mortals trying to buy tickets on Craigslist: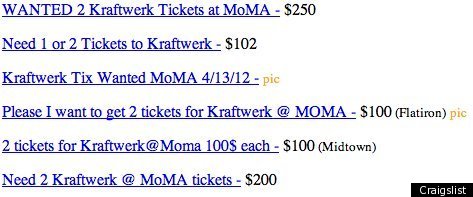 The CEO of Showclix ended up apologizing for the debacle, saying "ultimately, we failed you."
Maybe Kraftwerk should pull an LCD Soundsystem, and extend the concert series to like, a whole year or something? Make a documentary about it?
And of course, Hitler predicted all of this would happen: