In our latest model profile, we're talking to Marte Mei Van Haaster. The 19-year-old beauty, who was born in Amsterdam, recently walked for Marc Jacobs, Calvin Klein, Proenza Schouler and Rodarte, amongst others, during New York Fashion Week.
The IMG model, who just finished walking in London for Acne, Giles Deacon, Topshop Unique and more, tells us below about the time she almost missed a shoot for Interview Magazine because she left her passport in Paris, what it was like to shoot a Lanvin ad covered in snakes for two days and more.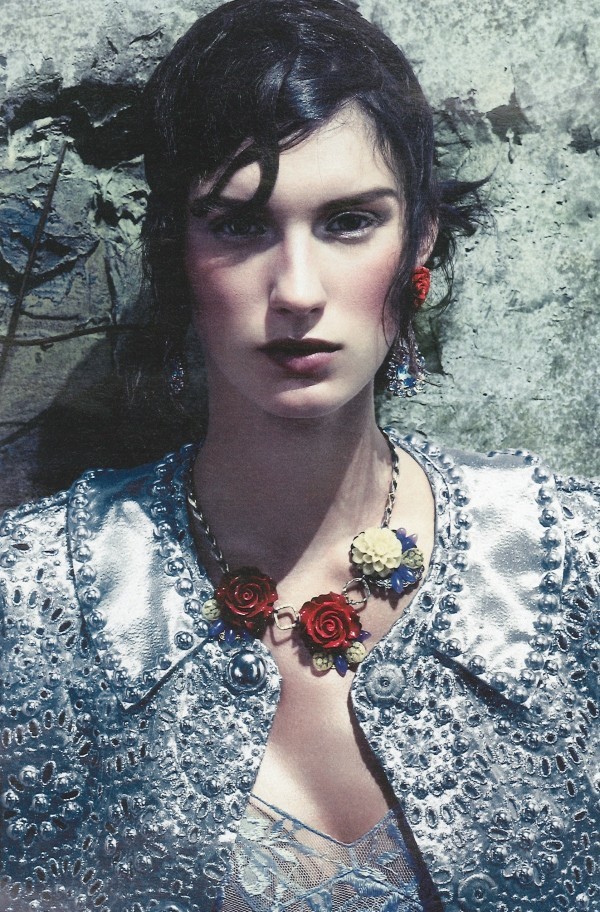 How were you discovered?
I was scouted on the street before, but always refused. My mother's best friend works in the fashion industry and she pushed me into writing a letter to a good Dutch agency. And so I did and they immediately responded. They are still my mother agency.
What was it like to shoot the snake-filled Lanvin Spring 2012 ad with Steven Meisel?
That was very cool. It was such a big production and such a driven team. I was so proud to see it all from so close let alone be part of it. The booker who booked me that job sent me a concerned email saying: "Marte, I'm so sorry, I totally understand if you're scared, but the shoot will be with snakes." That was mainly her fear. I was so excited to shoot with snakes! When do you ever get the chance to touch a snake let alone work with a whole group of them for two days?
What was the most exciting job you have been on?
My most exciting job was a Prada show in Tokyo. It was such a new experience. I flew from London to Tokyo and slept in the Grand Hyatt. I had never before lived in such luxury ever: it felt like floating on soft pink perfume sushi clouds. Then I did a very cool show with an amazing crew, and I flew back to Paris again. It was like escaping from the real world for three days.
What job were you most nervous for?
The job I was most nervous for Interview magazine in New York, because it's Karl Templer and Micheal Janssen, and they are both very talented and great people. But mainly, because I was in Stockholm for a shoot, and I had to fly to New York the same night to shoot Interview magazine the next day in New York. When I found out I left my passport in my Paris apartment whilst re-packing my bags, I was devastated and so nervous I wouldn't make it to my job. I have never been that nervous/hysterical ever before and ever again. But, with help from my bookers, modern airplanes and a lot of luck, it all worked out and I made it to Paris and then to New York in time for the shoot!
Who are your favorite designers?
I used to study textile design myself, so I love seeing how designers use textiles in there collections like Marni, Rodarte and Dries van Noten.
Do you have any lucky charms that you bring to castings or shoots?
I have a pink ring. It is a very simple string of sliver with a knot in it. I wear it all the time. It is a ring I got made just before my grandma passed away. In Dutch, tying a knot in a napkin means "you have to remember something," and this is a way of reminding myself of my grandmother.
What beauty products/tips have you picked up since modeling?
Drink a lot of water, take vitamin E pills and don't be cheap when it comes to skincare products. I used to never spend a lot of money on one bottle of cream. I always thought, "For cream! No way! I could go to the movies and out for dinner for that much money! " But, now it's my job and the expensive creams are secretly very nice.... .
What would you do if you weren't modeling?
I would have transferred from the Royal Academy of Arts in The Hague to the Rietveld Academy in Amsterdam. I would be studying textiles and doing some projects on the side. I would have moved out of my parent's house. Not into my suitcase like I have now, but into a Amsterdam apartment, together with my boyfriend.
Take a peek in our gallery below to see Van Haaster's snakey Lanvin ads and some images of her in action on the runway:
PHOTO GALLERY
Marte Mei Van Haaster