Cherish every precious moment with this Craft Of The Day, that allows you to mark down your child's every growing inch. No kid? It makes a great gift to the favorite mom in your life. Keep reading for the how-to.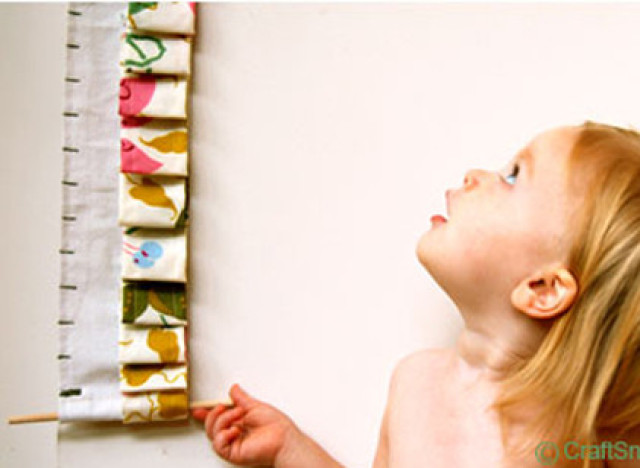 Photo by Sara of Craft Snob
What You'll Need
Scissors
Canvas
Patterned fabric
Dowel rods
Sewing machine
Thread
Ruler
How To Make It
1. Cut a piece of canvas 5.5 feet long by 5 inches wide.
2. Cut 4 pieces of patterned fabric 4 feet long by 3 inches wide.
3. Fold under canvas and fabric sides and sew.
4. Sew one end of the patterned fabric two inches above canvas end.
5. Fold under the same end of canvas to fit a dowel rod and sew.
6. Starting from the bottom, sew patterned fabric every 1.5 to 2 inches to create ruffles.
7. Repeat until you reach the end, leaving room to sew in the top dowel rod.
8. Using a pencil and a ruler, mark every inch.
9. Use thread to sew over every mark.
10. Tie a string to both sides of top dowel rod to hang.
For a full tutorial, visit Craft Snob. And, be sure to check out the other great crafts in our Craft Of The Day slideshow below.
PHOTO GALLERY
Craft Of The Day