How do you reach 100,000 followers on Twitter?
Singer Larry Hernandez found it was as easy as offering an odd prize to his fans: a photo of his "package."
After promising to show off his bundle, Hernandez's Twitter (@larryhernandez1) following skyrocketed past his 100,000-follower goal. The camera-friendly Hernandez kept his word and posted a photo of himself from the waist down.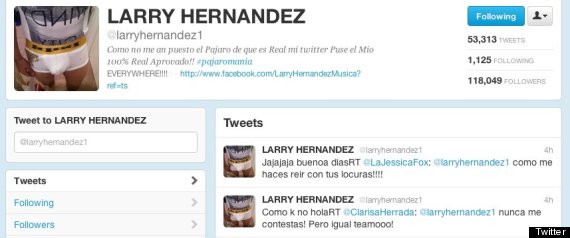 This is not the first stunt by Hernandez. In September, he tweeted, "Quieren ver mi pakete jajajjaa," (they want to see my package hahahaha), and later uploaded similar undergarment photos. But Hernandez didn't stop there and went as far as raffling off a pair of his underwear to a lucky fan.
Born in Los Angeles, Hernandez launched his solo career after his break from the group Los Amables del Norte. He dropped his first album, Mil Noches, in 2002, but did not achieve mainstream success until 2009 with the release of 16 Narco Corridos.
Hernandez, however, is garnering the most attention not for his music, but for his exposition of certain personal assets. Posting more photos of his package on Twitter today, it appears Hernandez has no intentions of shying away.
BEFORE YOU GO
WATCH RELATED CELEBRITY TWITTER SCANDALS: