"Mad Men" makes its triumphant return to AMC on March 25 in a two-hour premiere, making up for its long absence. For those of you that have been anxiously counting down, that marks 525 days since the Season 4 finale.
The new poster for Season 5 has finally been revealed, and it may have a few fans scratching their heads. In the ad, we see an image of the always-enigmatic Don Draper, played by Jon Hamm, staring at mannequins in a store window. One mannequin appears to be naked, while the other is dressed in very Draper-like attire.
But what does this all mean?
"This is a dreamlike image," show creator Matthew Weiner told The New York Times. [The image is] a nonverbal representation of where my head is at and where the show will be... By the end of the season, I guarantee you'll know what it is about."
The two hour "Mad Men" Season 5 premiere airs March 25 at 9 p.m. EST. Check out the new Season 5 poster below.
PHOTO: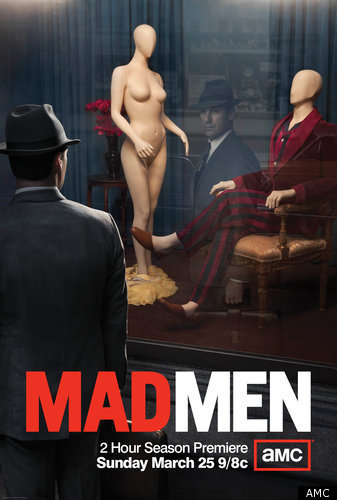 BEFORE YOU GO