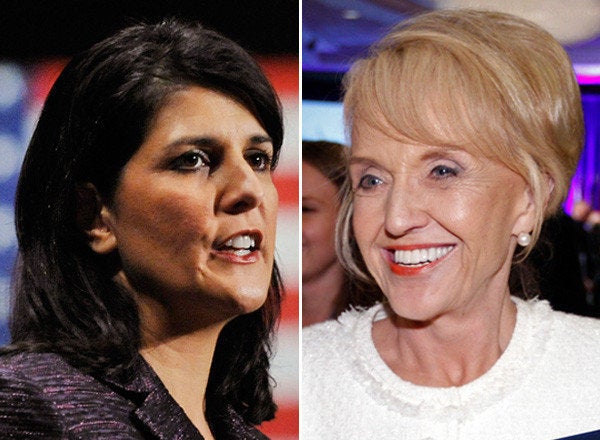 WASHINGTON -- Arizona Gov. Jan Brewer (R) was not the only Republican governor skipping Sunday night's White House governors dinner but attending Monday's meeting with the president.
South Carolina Gov. Nikki Haley (R) acknowledged at a press conference Monday afternoon that personal plans kept her and her husband, Michael, from attending the dinner. President Barack Obama and first lady Michelle Obama host the dinner annually for the governors to coincide with the National Governors Association conference in Washington.
"We were meeting with friends," Haley told reporters, following a press conference organized by the Republican Governors Association.
Haley said that she and her husband "were honored" to attend the White House dinner last year -- her first as governor -- but wanted to see friends Sunday night. When asked by The Huffington Post, Haley said that there was no coordination with Brewer; Haley said she did not know the Arizona governor was not attending the dinner.
Brewer said on Saturday morning that she was not attending the dinner, but would not reveal her plans for the evening. Brewer was overheard telling aides before an NGA meeting that she did not want to attend a "social" event but would attend Monday's White House meeting because it was a "policy" event.
Both Haley and Brewer are prominent supporters of Mitt Romney's presidential campaign. Brewer announced her endorsement Sunday morning on "Meet the Press."
While Florida Gov. Rick Scott (R) does not belong to the NGA, he did say that he and his wife, Ann, would be traveling from Tallahassee to Washington Sunday for the White House dinner.
Haley attended Monday morning's meeting with Obama and Vice President Joe Biden, where the president stressed the importance of education policy. Haley later joined fellow Republican governors Bob McDonnell of Virginia and Bobby Jindal of Louisiana at the RGA press conference to blast Obama's policies and urge the election of a Republican president.
In addition to stressing the Republican message on business and education issues, Haley used the press conference to explain her own questions to Obama during the White House meeting. She said she stressed the need to deepen the nation's ports, including the Port of Charleston in order to accommodate the new container ships coming from the deepened Panama Canal. Haley said this includes having the Army Corps of Engineers respond faster to port-related requests from state governments.
At least one Democratic governor did not attend the dinner. The Rochester Democrat and Chronicle reported Sunday night that New York Gov. Andrew Cuomo (D) was not attending the NGA conference or dinner, but his office did not explain why. Cuomo is known for rarely venturing outside of the Empire State.
BEFORE YOU GO