Though the tech sector prides itself on disruption, innovation, and a total disregard for the status quo, there's one part of it that appears impervious to change: the glass ceiling.
Even as other traditionally male-dominated sectors, such as financial services industry, have diversified their ranks by adding more female leaders, the tech industry has lagged behind in admitting women to top roles, as well as tracking their progress in the workplace, according to a Thomson Reuters report examining changes in gender equality between 2005 and 2010.
Tech companies have been worse than firms in other sectors at monitoring the number of women they employ, which makes analyzing changes in gender diversity "almost impossible," writes Thomson Reuters' André Chanavat in his analysis. Just nine tech companies out of 254 shared data on the share of their total workforce and management team that was female in 2005 and 2010. CNN Money's Julianne Pepitone previously highlighted this dearth of data, noting that more than a dozen of Silicon Valley's biggest firms, including Microsoft, Apple, Facebook and Google, declined to offer data on the diversity of their workforce, or ignored CNN Money's request to do so.
Still, from what data was available to Thomson Reuters, the situation doesn't look good and the Silicon Ceiling looks as robust as ever -- if not more so.
"[W]hile there is only a relatively limited pool of data available from the technology sector, it nonetheless appears to signal that these companies have made less progress at helping their employees smash through the glass ceiling," Thomson Reuters' report reads.
The company's analysis suggests that the frequency with which women enter management positions in tech firms is actually declining. This was true for Intel, where the share of female managers dropped from 30 percent in 2005 to 15 percent in 2010.
Compare this chart for the tech sector...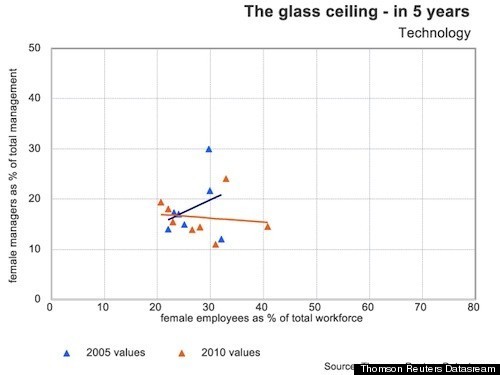 via Thomson Reuters
...with this one showing female managers and employees in the financial services sector: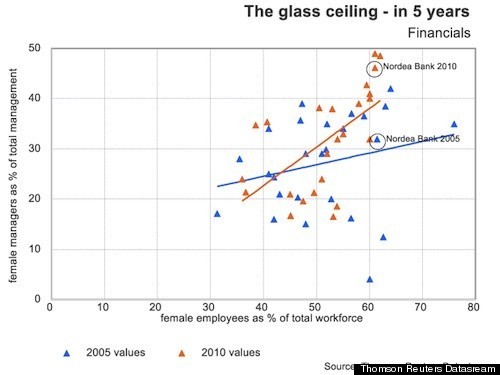 via Thomson Reuters
Healthcare and consumer goods companies boast the highest share of female managers -- 34 percent, in both cases, in 2010 -- while technology firms lag behind with women in just 15 percent of top leadership roles.
So why does this matter? Diversifying a company's management team makes good fiscal sense, and companies with a greater number of female managers (30 percent or more) have delivered better returns during economic downturns, Thomson Reuters concluded.
"Companies that are ahead of their peers when breaking through the glass ceiling tend to have share prices that outperform, particularly in tough market conditions," Chanavat writes.
These results concur with findings from Catalyst, a nonprofit focused on issues related to women in the workplace. Catalyst's study tracking return on sales, return on invested capital and return on equity found that companies with at least three female board directors delivered better financial performance than companies with only a few women on their boards.
Some investors are taking a stand in an attempt to convince companies to diversify their boards. The California State Teachers Retirement System (CalSTRS), the second largest pension fund in the country and an investor in Facebook, wrote a letter to the social networking site encouraging its leaders to add women to its all-male board of directors.

"We are disappointed that the Facebook board will not have any woman members," CalSTRS' director of corporate governance Anne Sheehan wrote. "This is particularly glaring at a time when there is clear evidence that companies with diverse boards perform far better than the companies with more homogenous boards."
Like Facebook, Silicon Valley darlings Twitter, Foursquare, PayPal, and Zynga also have a boys' club board. Yet in the last few months, women have ascended to top posts at several tech companies: Hewlett-Packard appointed Meg Whitman CEO last fall, and IBM named Virginia Rometty CEO in October.
For more on these issues, check out our Women in Tech series here.
BEFORE YOU GO